The Catalyst Foundation of the U.S. launched its newest campaign the 2008 Catalyst Foundation Viet Nam Aid Expedition on Friday, aimed at helping orphans and disadvantaged children and underprivileged people in the nation.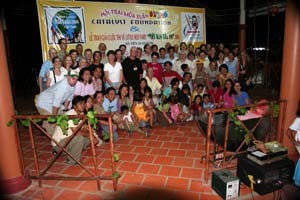 Catalyst Foundation will continue to hold a camp in summer for children
The total fund for this campaign is approximately VND2.37 billion (US$148,125).
As scheduled, the campaign will operate until 1 April 2008. Initially, volunteers for the organisation will provide twelve new houses for underprivileged families, 300 gift sets and 250 bicycles.
In addition, Catalyst will hold a summer camp at Long Hai Beach over 2 days for 300 children.
Other activities in the campaign will provide children with scholarships, offer credit to poor families to help them to get back to work and improve their lives, build more houses for the poor community and hold some career guidance seminars for the locals.
One of the Catalyst Foundation founders, Scott Parker intends to ride his bike over 2000 miles from Oregon to Minnesota during August-September 2008 in an effort to raise $40,000 for constructing a school and a safe shelter for the girls living in the garbage dump of Kien Giang.
Funded by a Vietnamese-American couple, Caroline and Ticarro Parker, the Catalyst Foundation was initially set up in Viet Nam in 1999. This non-profit organization has supported orphaned, abandoned and homeless children in Viet Nam through scholarship programs and direct relief efforts. It also works with adopted children from the country.