Being in harmony with the nation for the benefit of both the religion and wider society is the duty of the Vietnam Committee for Catholic Solidarity, said Phan Khac Tu, a priest and vice chairman and general secretary of the committee, at the fifth Vietnamese Catholics' Congress for Building and Protecting the Fatherland in Ha Noi yesterday.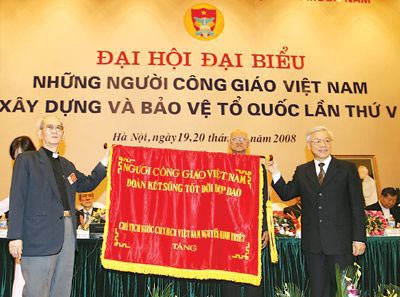 NA chairman Nguyen Phu Trong (R) presents the banner to the Vietnam Committee for Catholic Solidarity (Photo: Ha Noi Moi)
The event was attended by National Assembly chairman Nguyen Phu Trong, former president Tran Duc Luong, and Mr. Trong's predecessor Nguyen Van An.
"With the country's social and economic development, the life of the Catholic community too has improved, the solidarity among Catholics has been strengthened and their relationship with the public has expanded," Mr. Trong said.
"It is the policy of the Party and government to respect citizens' right to religious freedom, considering it a legitimate need.
"In fact, the Party and Government always create favorable conditions for religious followers, including Catholics, to practice their religions."
He hoped that Catholic dignitaries and followers would promote moral values, espouse people's responsibilities, and join hands in developing Vietnam into a strong country with wealthy people and a just, democratic, and civilized society.
President Nguyen Minh Triet presented the Vietnam Committee for Catholic Solidarity a banner that said: "Vietnamese Catholics unite for the sake of religion and life." 
 
At the conference, the Government conferred on many priests and followers the Independence Order, third class, and the "For the great national solidarity" Medal.
"In the past five years, the Catholic community in Ho Chi Minh City has donated more than VND30 billion (US$1.8 million) to poor families, poor students, destitute old people, and street children," Le Giao, vice chairman of the HCM City Committee for Catholic Solidarity, said.
"Soon, we will expand our support to migrant families," he added.
Some of the participants spoke to Sai Gon Giai Phong on the sidelines.
 
"We are all Vietnamese and we all wish to serve the nation," Nguyen Duc Trung, a priest from Tan Thanh Dong parish and deputy head of Committee for Catholic Solidarity of Cu Chi District, HCM City, said.
He attributed Catholics' agreeable life to the close relationship they have with local authorities and the Fatherland Front.
Dr Nguyen Van Hanh, head of Nghe An province's Committee for Catholic Solidarity, said followers are expected to practice charity "based on the teachings of Christ."
Now president of the Medical Council and head of Surgery Department at the Nghe An Traditional Medical Hospital, Dr Hanh and his colleagues often provide free medical checkups and treatment to disabled people, orphans, children with terminal diseases, lone elderly people, and the poor.