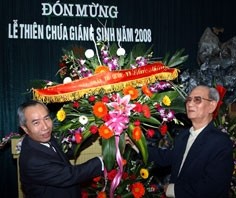 Mr Huynh Dam, president of the Vietnam Fatherland Front Committee presents flowers to Father Nguyen Cong Danh, chairman of the Vietnam Committee for Catholic Solidarity at the meeting.
An intimate meeting to celebrate Christmas was held December 19 in Hanoi by the Vietnam Committee for Catholic Solidarity.
Participating in the gathering were local Catholics and a group of officials led by Mr. Huynh Dam, chairman of the Vietnam Fatherland Front Committee.
Speaking at the event, Father Nguyen Cong Danh, chairman of the Committee, said that the country has achieved much and shows encouraging signs as it integrates globally. Many remarkable contributions have come from Catholics.
Catholics are always willing to serve the country, give support to each other and help the poor, he said.
Mr. Dam wished them a good Christmas and said he appreciated the great contributions Catholics have given to building and developing the country.
Catholics have actively joined movements initiated by the Committee, such as 'Building cultural lifestyle in residential areas', 'Day for the poor', he said.
He expressed his belief that the Catholic community will continue to develop their patriotic tradition and contribute to consolidate national unity, and to help build Vietnam into "a strong country with its wealthy people and a just, democratic and civilized society".
On the same day, Ms. Ha Thi Khiet, a member of the Central Party Committee and head of the Central Commission for Mass Mobilization, visited HCM City's Archbishop.
Talking with Ms. Khiet, Cardinal Pham Minh Man, Archbishop of HCM City archdiocese, said that Catholics in the archdiocese are living in peace and happiness. They always take part in social and charitable movements and help the authorities give support to the poor, he added.
Ms. Khiet said she highly valued the activities by parishioners and their compliance with the State's and government's laws and policies.