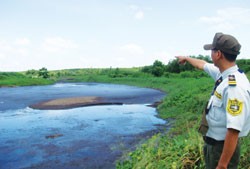 Thi Tinh River is blacken after the wastewater reservoir of San Miguel Pure Foods was broken on July 25.
A Binh Duong Province-based cattle-feed producer, San Miguel Pure Foods, has yet to fix a breach of its untreated wastewater reservoir on July 25, which caused pollution and the deaths of numerous fish on the Thi Tinh River, the province's environment inspectors said on July 27.
The pollution flowed into the Saigon River and was about six kilometers away from the Thu Dau Mot and Tan My water plants, inspectors said.
The inspectors ordered the company to dam up embankments to stop the untreated wastewater flowing into the river and reinforce its wastewater reservoir within 15 days.
The company blamed heavy rain for the "unanticipated" incident, which released more than 233,000 cubic meters of wastewater into Thi Tinh River.