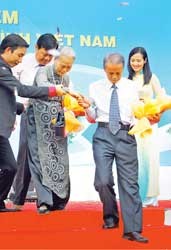 Families celebrate Viet Nam Family Day at 23/9 Park
Yesterday, hundreds of Vietnamese families took part in a special meeting aimed at celebrating Viet Nam Family Day (June 28) at 23/9 Park.
Ms Nguyen Thi Ngoc Hanh, Deputy Chairman of HCMC Women's Union said that HCMC currently has 1,894 happy family clubs with over 69,300 members. The clubs' target is to build happy families, and promote healthy lifestyles. Another main aim is to assist parents to educate their children to study diligence and help each other to develop the family's economic circumstances in the future.
In addition, the law against family violence which will become effective as from July 1, 2008, is an important factor and social change that is important for many reasons and to many people, both nationally and internationally.
Many activities also took place at 23/9 Park including a cooking contest, a painting exhibition, a book fair and stalls of Vietnamese culinary delights.
This year, Viet Nam Family Day had a theme "For Happy Families with No Violence" and was launched by the Ministry of Culture, Sport and Travel.