Numerous activities will take place to commemorate the 60th anniversary of Dead and Wounded Soldier Day (July 27) and show the nation's appreciation to those whose lives were devoted to the nation's defense and construction.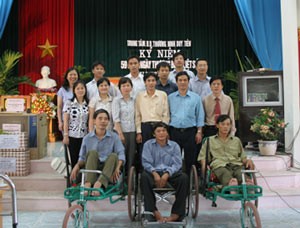 Veterans at a commemorative ceremony

Vietnam Television in coordination with the Labor and Social Welfare Service and the Department of Culture and Information have organized a live TV program, which will be broadcast from the Thong Nhat meeting hall, and a candle-lighting ceremony at the city martyrs' cemetery taking place simultaneously on July 27.

The "60 Years Tribute" program opened in Ha Noi yesterday. The exhibition's main attraction includes an exhibition of 1,000 photos and items illustrating 60 years worth of tributes to the nation's martyrs and veterans. Collaboration between the Central Committee of the Vietnamese Father Front, the Ha Noi People's Committee and the Viet Nam Elders' Association led to the opening of this event that is due to last from July 24 to 29.

In collaboration with the upcoming Vietnamese film week from July 24 to August 1, the event in Ha Noi is able to feature twelve Vietnamese films including "One Hand, Two Fates", "The Price of God", "Dong Loc Crossroad" and other films free of charge.

An exhibition entitled "Unwavering Faith" will also display 300 items and photos depicting the three main themes of yearning for independence, veterans in modern life and the principle "drinking water, think of its source". The exhibition will be on display at the Viet Nam Military History Museum from July 10 to September 15.