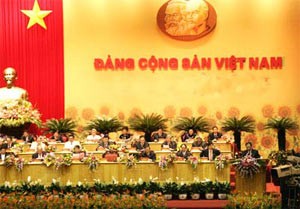 A meeting of the Communist Party of Viet Nam
The northern province of Cao Bang yesterday held celebrations marking the upcoming 77th anniversary of the founding of The Communist Party of Viet Nam on February 3.
Attending the ceremony were Mr. To Huy Rua, Secretary of the Central Party Committee and Head of the Ideological and Cultural Commission as well as Cao Bang Provincial leaders and representatives of ethic minorities in the area.
Mr. Rua talked about the Party's establishment, adding that on January 28, 1941, President Ho Chi Minh, living under the name of Nguyen Ai Quoc at that time, returned to Viet Nam to spearhead the country's revolution. He stressed the importance of this historical event, which contributed greatly to the success of the national liberation mission.
Established in 1930 by President Ho Chi Minh, the Communist Party of Viet Nam was instrumental in the unification of the nation's traditions, successfully steering the Vietnamese people through many difficulties to build their country.
During the course of celebrations, the Cao Bang Province's Party Committee also launched a campaign entitled "Study and follow the example of virtuous Uncle Ho", mobilizing the participation of both Provincial Party Committee members and local residents.