Future generations should continue to strive to sustain the country's revolutionary achievements and make it more beautiful and developed, President Nguyen Minh Triet said while inaugurating an art program to mark Ho Chi Minh's 119th birthday, May 19.
 
The program, "The month of May and reminiscences about President Ho Chi Minh," was held on May 17 at the President's Office.
We shall continue to work for development and we are proud of our nation's past but there are many challenges ahead to overcome, he said.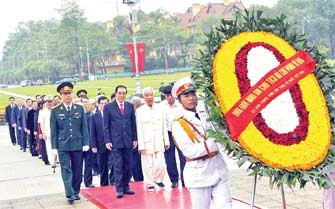 A delegation of top Party and Government officials paid a visit to the Ho Chi Minh Mausoleum in Hanoi on May 18 to mark the 119th anniversary of President Ho Chi Minh's birthday on May 19 (Photo: SGGP)
General Secretary Nong Duc Manh led a Party and Government delegation on May 18 to pay tribute at the Ho Chi Minh Mausoleum as part of activities to mark the President's birth anniversary.
Accompanying him were former Party leader Do Muioi, President Nguyen Minh Triet, his predecessor Tran Duc Luong, Prime Minister Nguyen Tan Dung, National Assembly chairman Nguyen Phu Trong, former NA chairman Nguyen Van An and other high-ranking officials.
The delegation laid a wreath at the mausoleum.
Also paying visits to the mausoleum were delegations from ministries, official agencies, the Hanoi authorities, and many members of the public.
In Vinh city, central Nghe An province, the late President's native land, Truong Tan Sang, Politburo member and standing member of the Secretariat of the Communist Party of Vietnam Central Committee, attended a solemn ceremony held to mark Ho Chi Minh's birthday and the 40th anniversary of the implementation of his last letter to the provincial Party Committee.
The province has yet to meet President Ho Chi Minh's expectations and needs to overcome its weaknesses to develop better, Mr.Sang said.
Democracy has yet to truly take root, with people continuing to be harassed, he admitted.
Economic growth has not been adequate, with the incomes and living conditions of people remaining low, especially in mountainous areas, he said.
He called on authorities to further tap the province's economic potential and adopt more practical measures to resolve problems to make Nghe An one of the most developed provinces in the north, as expected by the President.
In Ho Chi Minh City, the Communist Youth Union organized a festival "Young people follow the President's instructions," that included a photo exhibition highlighting the campaign "Vietnamese youths study and follow the President's instructions."
At the city's Youth Cultural House, the Union organized a music program titled "Truong Son Legend – Lighting up a fire for young people of the city named after the President" to mark the 50th anniversary of Ho Chi Minh Trail. More than 500 Union members attended the program in which they met with former revolutionary soldiers.
The Union presented 20 scholarships valued at VND2 million (US$117.6) each to gifted children and grandchildren of people who fought on the Truong Son Road.