Quang Nam Province held a national level symposium titled "Comrade Vo Chi Cong for Vietnam's Revolution and Homeland of Quang Nam-Da Nang" on August 5, in joint corporation with the Ho Chi Minh National Academy of Politics and Public Administration and the Party Central Committee of Propaganda and Education.
Speaking at the symposium, Dinh The Huynh, Politburo Member and Secretary of the Party Central Committee, said that the many scholars who were attending the symposium would have a chance to learn more about the revolutionary life and career of Vo Chi Cong and his great contributions towards the struggle for national liberation and independence.
Vo Chi Cong was an exemplary Party and State leader, as well as a steadfast communist, who devoted his life to national liberation, the people's happiness and communistic ideals.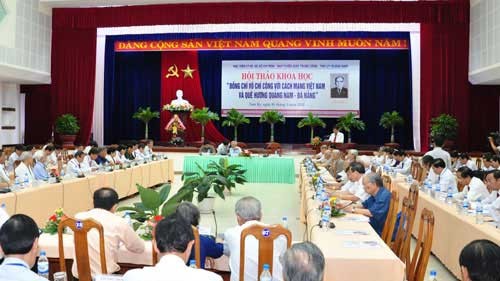 At the national symposium in Quang Nam Province (Photo: Vietnamnet)
At the symposium, Nguyen Duc Hai, Party Committee Secretary of Quang Nam Province stated, "Comrade Cong was a strong and virtuous communist leader who had political vision, and a high sense of responsibility, showing sharp, decisive leadership."
Nguyen Van Chi, former Politburo Member and former Chairman of the Party Central Inspection Commission also remarked, "During the two wars, Vo Chi Cong played the role of a trusted commander, a firm spirit for our army and people and gained as many victories as Thuong Duc, Buon Ma Thuot. During reunification, Vo Chi Cong stuck by the people, lived for the Party, and contributed to creating a new wave in agricultural production."
As Secretary of the Communist Party Committee and Political Commissar of Military Zone 5 until the South was liberated, Vo Chi Cong had made outstanding contributions to the southern revolution.
After liberation and national reunification, he become State President, and with his wisdom and practical experience he suggested many new ways to solve problems, contributing to overcoming difficulties and bringing the country to lay siege on hostile forces, advancing towards future reconstruction.
On the same day, a ceremony was held in Nui Thanh District in the central province of Quang Nam to upgrade and nationally recognize a memorial site for former State Council President Vo Chi Cong.
Le Phuoc Thanh, Chairman of Quang Nam People's Committee told reporters that the 24,000 square meter memorial site was built in 2002 in Cong's home village of Khuong My in Quang Nam Province at a total cost of VND80 billion from the State budget.
Thanh said that President Cong set a shining example for more than 80 years during which he was engaged in revolutionary activities.
The site will be upgraded to the standard of a national historical relic to show the Party and people's respect and gratitude for contributions made by Comrade Cong to the revolutionary cause and also educate younger generations about the nation's patriotic traditions.
At the ceremony, Huyen Vinh Ai, Vice Minister of Culture, Sports and Tourism said, "For more than 80 years as one with the Party and the revolution, Vo Chi Cong became one of the outstanding leaders of the Party and State, with great revolutionary tenacity and as one of the outstanding pupils of Late President Ho Chi Minh."
On the eve of August 5, at March 24 Square in Tam Ky City in Quang Nam Province, the Ministry of Culture, Sports and Tourism and Quang Nam People's Committee jointly organized a colorful art performance to celebrate the 100th birth anniversary of Late Comrade Vo Chi Cong.