The central city's people's council has postponed the collection of the road-maintenance fee for motorbikes from July 7, Chairman of the council Tran Tho said at a meeting yesterday.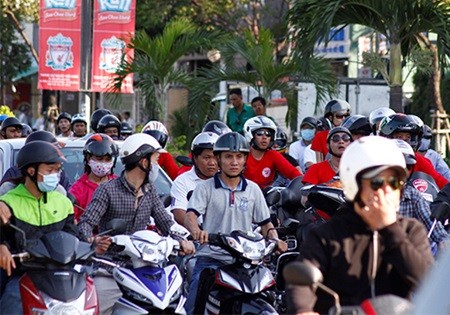 Most residents of Da Nang City do not agree with road-maintenance fee for motorbikes. — Photo vnexpress.net
Tho, who is also the city's party secretary, said the imposition of the fee did not have the unanimous support of the people.
"It's difficult to collect the fee from motorbike users in the city, when most residents do not agree with it," Tho said.
He said all deputies approved the decision to postpone the collection of the fee at the first session meeting of the council on Tuesday.
Tho asked the city's people's committee to send a report on the decision to the government for further instructions.
The city has more than 700,000 motorbikes. However, only a third of the targeted fee collection has been collected since 2013.
At the second session meeting yesterday, the council also decided to transfer the management of the city's Cancer Hospital, which was being administered by the Association to Support Poor and Disadvantaged Women and Children, to the city's health department from September.
Deputy Chairwoman of the association Nguyen Thi Van Lan said it was the right decision as the hospital was open to all cancer patients and provided free care for poor patients.
It's the largest cancer hospital in the central region and the first non-profit hospital in Viet Nam.
As per the plan, the hospital will merge with the oncology ward of the city's general hospital to open as a new cancer hospital from September 2. The new hospital will continue to provide charity programmes for poor cancer patients.
She said the hospital's operations were funded by donations and sponsored by the city budget, domestic and foreign businesses, individuals and NGOs.
The US$71.4-million hospital, which was inaugurated in 2013, has provided treatment to 60,000 patients, of which 4,300 were in remission, worth nearly VND5 billion ($238,000) since 2013.
The hospital has provided free breast cancer examination to 1,300 women in the city.
The city's people's council also decided to revoke the investment licence of the Da Nang Information Technology Park yesterday, for delayed commencement of construction.
The chairman said the project, in which the United States' Rocky Lai and Associates Inc invested $278 million in 341ha, had been allowed to extend the date of commencement of construction several times, but the company had failed to keep its commitment.
According to the latest report, there are 300 projects facing delayed construction in the city.
The city attracted just $15 million in foreign direct investment in the first six months of this year.