The Central Coastal Region should focus on the development of economic zones as they have proved effective in luring foreign direct investments, agreed several delegates on the last day of the two-day conference on investment promotion, held in Da Nang City on March 22.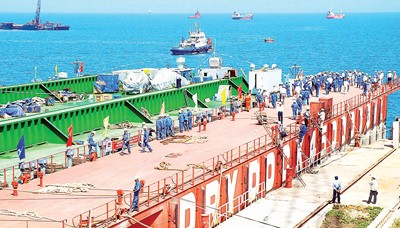 A view of the deep water port in Dung Quat Economic Zone in Quang Ngai Province (Photo: SGGP)
According to Dr. Bui Tat Thang, head of the Development Strategy Institute, while industrial zones have attracted low investments, economic zones have shown encouraging results.
Six out of 15 economic zone projects approved by the Government have been built over an area of 123,500 hectares in the Central Coastal Region, which include Chan May-Lang Co, Chu Lai, Dung Quat, Nhon Hoi, Nam Phu Yen and Van Phong.
These economic zones are fully operational and have attracted 384 projects with total registered capital of US$28.39 billion. Total production value in these zones reached VND150 trillion ($7.17 billion) in 2011, accounting for 85.4 percent of the production value of 15 economic zones in the country.
Delegates at the conference therefore emphasized the need for the Central Coastal Region to focus more on developing economic zones to attract investments and create a larger industrial production base.
At the conference, delegates also mentioned that the Central Coastal Region had rushed to open industrial and economic zones without   calculating their effectiveness.
Several areas have demarcated hundreds or even thousands of hectares of agricultural land for this purpose, sending farmers to eke out a living elsewhere. Some projects have taken possession of this land but have let it lie undeveloped due to lack of investments, causing much waste.
The Central Coastal Region should once again replan economic and industrial zones to gain better effectiveness.
Dr. Tran Du Lich, deputy head of the National Assembly Delegation in Ho Chi Minh City, said that provinces should clearly determine their roles and advantages to find a productive development strategy.
For instance, Da Nang City should focus on the high technology sector while Quang Nam Province should develop in the automobile industry sector.
Quang Ngai Province must focus on oil filteration; Binh Dinh Province on wood processing; and Khanh Hoa Province on shipbuilding.
Ninh Thuan Province must head towards environment-friendly and nuclear energy; and Binh Thuan Province can easily boost agro-aqua-forestry processing.
This development strategy will help lure potential investors and create a growth environment in each province of the Central Coastal Region, he said.
Related article:
Central Provinces join hands in investment projects