Tropical storm 'Bebinca' has caused much damage in the northern and central regions but also brought ease to drought-stricken rice growers in the north-central province of Nghe An and Ha Tinh.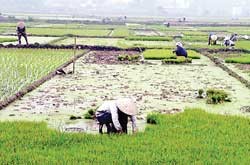 Rice production in the northern region (Illustrative photo: SGGP)
Before the storm, rice fields were parched because of scorching heat in Nghe An Province, where the Irrigation Department had to dam up Cam River in Nghi Loc District to hold salt water back and accumulate water.
Fortunately, downpours from the storm have raised reservoir levels since June 22-24 to provide irrigation water for large rice fields in Nam Dan, Hung Nguyen and Nghi Loc District.
Nguyen Truong Thanh, deputy head of the provincial Department of Irrigation, said that storm-triggered rains saved vast areas of summer autumn rice from being withered and several fields from being abandoned.
Tran Duy Chien, deputy head of the Irrigation Department in the neighboring province of Ha Tinh, said that 28 reservoirs in the province accumulated an extra of nine million cubic meters of water as of June 26.
This is an important water source for residents' daily activities and rice production.
Heavy rains also raised water level on Ngan Pho, Ngan Sau and Ngan Truoi Rivers supplying water to thousands of hectares of rice in the mountainous districts of Huong Khe, Vu Quang and Huong Son in Ha Tinh Province.
Nguyen Van Hai, head of the Agriculture Department in Huong Son District, said that about 1,500 hectares of summer autumn rice were saved from drought in the district.