Heavy rains and storms last month left 144 people, 25 missing, 181 injured and caused losses of around VND8,021 billion (US$401 million) in the central provinces, said Van Phu Chinh, deputy head of Dike Management and Flood Control Department on November 9.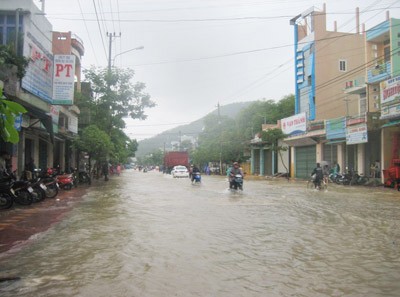 Floods resulted from heavy rains submerge Quy Nhon's major roads. (Photo: SGGP)
A meeting entitled "Localities actively prevent storm to reduce damage" was held in Ha Tinh Province by Ha Tinh Province People's Committee, Department of Dike Management and Flood Control, Central Natural Disaster Relief Fund and Ministry of Agricultural and Rural Development.
Last year, heavy rains and storms killed 302 people, submerged hundreds of houses and caused losses of around VND21,748 billion ($1 billion).
At the meeting, many delegates said that reasons caused flood are deforestation, implementing hydropower plant projects, so it needs to chop down trees, building dams and preparing the ground. When trees are cut down, and the land is turned over, the environment will be spoiled.
Tens thousands of hectares of forests have been destroyed to make way to build reservoirs.
Also, if deforestation continues, climate change and rising sea levels will make the region suffer greater misery.
If the forests still existed it would reduce flooding by preventing the concentration of water. The loss of the forests has caused major floods and devastation in the region, said a delegate.