The government issued a resolution Thursday to direct Ho Chi Minh City and Ha Noi to resolve traffic safety and order, the two most intractable problems the cities have faced in recent years.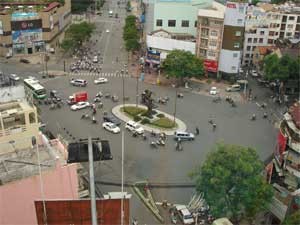 A roundabout in Ho Chi Minh City (Photo: Uyen Phuong)
The cities were required to join hands with appropriate departments to build both underground and multistory parking lots and speed up construction.
 
The resolution also directs the cities to set up, improve and widen the highways which lead to center of city, build beltways, urban axis routes, and urban railways.
 
A project to build overpasses and underpasses and improve the traffic control systems at places where traffic jams often occur is also required to solve the problem.
 
The Ministry of Construction already set a schedule to join hand with the cities in the near future to move the government offices, universities, colleges, vocational schools, major hospitals away from the central area of the cities.
 
The plan will be submitted to the government next year. Right after the plan is approved, the cities will make detailed plans to submit to government in the first quarter of 2010.  
 
The resolution recommended that the cities and the Ministry of Public Security improve the ability to use the central traffic remote control. These will promptly detect snarl-ups when they occur and immediately resolve them to smooth the traffic flow.
 
The police of the two cities will also be stricter in ticketing violations by drivers.
 
The government ordered the cities to continue to provide subsidies for bus firms and open more bus routes.