The persistent scorching weather with temperatures up to 41 Celsius degrees in the central region has dried up rivers in Thua Thien-Hue, Quang Tri and Ha Tinh Provinces, putting a host of rice fields in a severe shortage of irrigation water.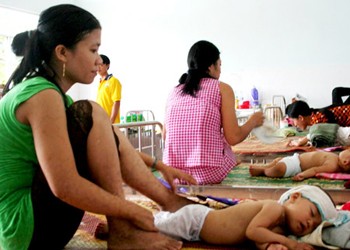 The long-lasting scorching weather raises the number of children hospitalized in Quang Nam Province. (Photo: SGGP)
In the northern central province of Quang Tri, about 1,000 hectares of rice in Dong Ha town and Cam Lo District has been in danger of dying off completely as Hieu River, the main water supply for irrigation, has been depleted.
Meanwhile, in Ha Tinh Province, thousands of hectares of rice in Duc Tho, Cam Loc, Thach Ha, and Loc Ha have experienced worse salt intrusion.
According to the province Department of Agriculture and Rural Development, since the end of March, the salinity has reached 3-4‰ while the permitted level for rice development is just below 1.2‰.
Farmers say that it takes VND30 million (US$1,500) per day for electricity alone to pump water into fields.
In addition, the drought has also bring more trouble for farmers in provinces from Nghe An to Quang Ngai as they have struggled to cope with the rage of pests and insects.
Of these, the black streaked dwarf rice disease has ruined thousands of hectares of rice, with rice being burnt and dwarf.
Thua Thien-Hue and Quang Tri Provinces People's Committees have begun carrying out measures to control the disease.
Going to beaches to avoid heat
The sweltering weather together with regular power cut has sent central residents to beaches and parks to cool off.
In Quang Nam Province, thousands of people and tourists have flocked into beaches including Tam Thanh in Tam Ky town, Rang in Nui Thanh District and Cua Dai in Hoi An ancient town to cool off in early morning and late afternoon.
In Da Nang City, restaurants along Han River and beaches everyday see numerous of customers who come to seek for cool atmosphere.
In related news, 700,000 people in Mekong Delta Province of Ben Tre have suffered severe salt penetration in the entire localities.
The salt intrusion has damaged dozens of thousands hectares of coconut palms and other fruits plants in the province.
Thousands of flower and ornamental plant growers in Cho Lach District also lamented that the salt penetration has put them in a harsh shortage of irrigation water.
Meanwhile, residents in coastal districts of Binh Dai, Ba Tri and Thanh Phu have to buy potable water at a price of VND60,000-120,000 a cubic meter.
In several other areas of the province, people have been forced to use salt-infected tap water.