Several rivers and springs have dried up due to drought conditions in the Central Highlands, worsening water shortage for daily household use and irrigation.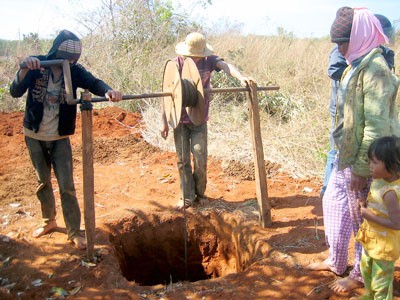 Farmers dig a well to draw water for irrigation in Gia Lai Province (Photo: SGGP)
Scorching heat wave is affecting Dak Ha and Sa Thay Districts and Kon Tum City in Kon Tum Province for the last few days. Reservoirs have hit bottom and most rice fields are lying severely parched in Kon Tum City.
Ca Tien and Tan Dien irrigation reservoirs have been depleted. They are the two main water supply sources for rice fields in Doan Ket Commune, which is the main rice granary of the City.
People have drilled wells in rice fields to pump water to irrigate, but it is proving futile.
Many rivers and springs in the west of Gia Lai Province have dried up, threatening thousands of hectares of plantations in Ia Grai, Chu Prong and Chu Puh Districts.
Although this is not peak drought season, the Department of Agriculture and Rural Development in Gia Lai Province has reported that there are more than 8,000 hectares of coffee plants facing water shortage.
Last year, drought damaged nearly 4,800 hectares of plantations in the east of the province with Kong Chro and Dak Po Districts being the worst hit.
Financial loss caused by drought has rocketed up to VND15 billion (US$718,000) in the province since last year.
In Dak Lak Province, more than 4,680 hectares of plantations have withered. Of these, 486 hectares have been completely lost. According to local authorities, if this condition lasts until April, vast areas of coffee plants will be destroyed.
More than 2,600 hectares of plantations face a similar situation in Dak Nong Province.
Added to this, water level in 22 out of 150 reservoirs in the province is rapidly receding if not depleted already.
Nguyen Hoang Phuc, head of the Department of Agriculture and Rural Development in Cat Tien District of Lam Dong Province, said that the underground water level in the district has receded so much that there is water shortage in wells for even daily household need.
The Department of Irrigation has noted that water level in several reservoirs is much lower than in the same period last year, with some a meter below normal.
Related article:
Central Highlands suffers parching heat