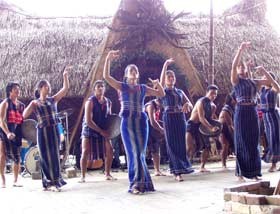 A gong performance of the K'Ho ethnic group in the Central Highlands (Photo: Tuong Thuy)
Representatives of different peoples in the Central Highlands province of Gia Lai had a gathering in Pleiku City on February 20, 2006 to review and fortify their solidarity over the past years.
The meeting, the first of its kind, drew 300 participants, who represent the 35 peoples in the province.
Also taking part in the meeting were Pham The Duyet, Chairman of the Viet Nam Fatherland Front's Central Committee; Trang A Pao, Chairman of the National Assembly's Peoples Council; Ksor Phuoc, Minister and Head of the Peoples Committee; and the province's officials.
Over the past years, the province's peoples have joined efforts in the revolutions in the country. The local government has supported them to improve their living conditions and develop their Gia Lai Province.
 
The meeting honored individuals who have made outstanding contributions to the province's economic development, combats against anti-revolution forces, and efforts to preserve cultural identity of the Central Highlands' peoples.
The participants signed on a letter to show their trust in the Communist Party's leadership. They called on the peoples to fortify their solidarity.