Recent storms and heavy rains caused hundreds of wells in Ea Po Commune, Cu Jut District of the Central Highlands province of Dac Nong, to overflow and become contaminated, putting local residents' lives at risk of starvation and waterborne diseases.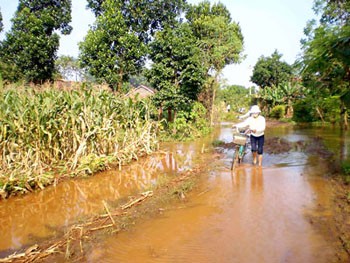 Floodwater covers the roads of Thanh Xuan Hamlet, Ea Po Commune, Co Jut District, Dac Nong Province (Photo: SGGP)
Luong Van Thang, deputy chairman of Ea Po Commune People's Committee, said that about 400 households in the commune were seriously affected by floods and 300 of them may lose their crops.
About 70 hectares of plants were facing complete damage, as there was no possibility of saving the submerged pepper gardens.
A large area of coffee and cocoa had also been ruined, he added.
By October 29, in some places, Ea Po was submerged under one meter of water.
Over the last week, the weather has improved but the commune's Thanh Xuan Hamlet roads were still flooded.
Pham Minh Thanh, a resident in the hamlet, was distraught to see her pepper plants on over 800 wooden posts and two hectares of coffee completely lost.
All funds that local residents spent for pepper and coffee fields had been swept away by the floods, which is especially damaging to the local community as it takes four to five years for them to replant such fields, the hamlet head, Pham Minh Thanh, said.
Another problem, Mr Thang said, was from environmental pollution, with many residents suffering from serious diarrhea and scabies.
Nursery and primary schools have also been seriously polluted with garbage and animal feces.
The commune had mobilized people to dredge canals but the condition was not much improved.
He said that the commune had reported the situation to higher authorities. However, by October 27, it saw only a few officials from Cu Jut District's Department of Agriculture and Rural Development coming to investigate the situation.
The officials did not take any action to deal with the environmental pollution.
Mr Thang said relevant authorities should help local residents to overcome starvation.
In the long term, they should assist people with seeds to recover farming production and invest to build drainage systems to prevent the condition from happening again, Mr Thang added.