The Central Highlands Steering Committee, Ministry of Agriculture and Rural Development and the People's Committee of Dak Lak province yesterday co- held a seminar on responding climate change and international integration in Buon Ma Thuot city.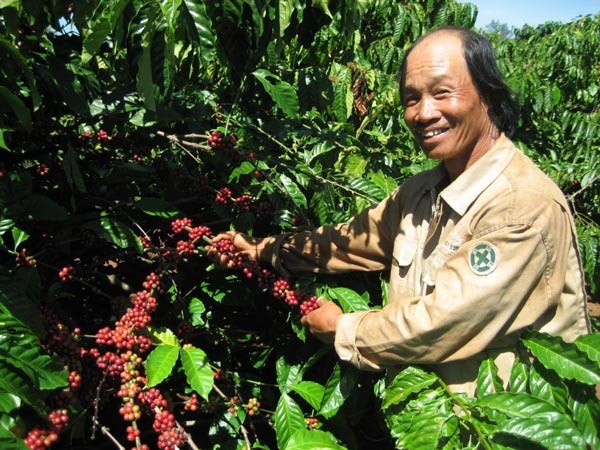 Dry weather reduces productivity and quality of the coffee plantation.
Deputy director of the Central Highlands Agriculture and Forestry Science Institute Mr. Truong Hong said that four large rivers running through the Central Highlands , namely Se San, Srepok, Ba and Dong Nai is exhausted water source, dropping from 173,863 litter to 125,000 litter per seconds.
Meanwhile, the undergrounded water source running through the Central Highlands provinces seriously reduced from 3- 5 meters in compared to ten years ago and its rainfall dropped down 65- 75 percent over every year.
Thus, climate change seriously affected to productivity and quality of the coffee plantation.
Dave A.D'haeze, a consulter of E.D.E Consulting Company said that the weather condition in Central Highlands is currently warmer compared to the global localities with its temperature increased from 0.3- 0.5 degrees Celisus in the period of 1979- 2012.
The weather is forecast to continue rising at 1.01 degree Celsius by 2050 and 2.39 degrees Celsius by 2100. Thus, coffee cultivation of the Central Highlands is going to lack off serious water irrigation in near future. 
In order to limit an impact of climate change, the Central Highlands provinces must have overall solutions in providing high- quality coffee seed, planting riverhead forests to save water.
At present, the locality covers around 600,000 hectares of coffee crops which occupied about 90 percent of nationwide agriculture land with its output reached at 1.3 million tons. Earlier the coffee cultivation has largely contributed into export turnover of Vietnam.
The Southeast Asian country is currently ranked the second position of the world in exporting Robusta coffee with its total turnover of US$ 3.3 billion.
The coffee export turnover of the Central Highlands also contributed around 30 percent of Gross Domestic Product (GDP). Thus, the climate change will seriously affect to the value of the locality's total exports, GDP and income of coffee framers.