A festival improving traffic safety culture took place in Buon Ma Thuot city, the Central Highlands province of Dak Lak on June 27, with over 1,200 youngsters and officials across the region taking part.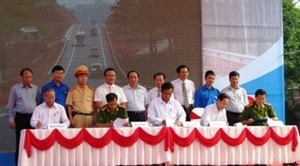 Senior officials from the Steering Committees for Traffic Safety of the Central Highland provinces and southern Binh Phuoc province signed commitments to ensure traffic safety on Ho Chi Minh road (Source: nhandan)
The festive day saw the donation of 1,000 helmets to poor children and residents, a parade, a forum to raise public awareness of safe driving, and a course guiding how to drive safely and abide by traffic laws.
An agreement to launch an educational campaign about traffic safety was also signed by relevant units from Dak Lak, Kon Tum, Gia Lai, Dak Nong and the southern province of Binh Phuoc.
In his opening remarks, permanent Vice Chairman of the National Committee for Traffic Safety Khuat Viet Hung said 2014 was the first year that recorded a decrease of road accident facilities to 9,000.
In the first half of this year, over 4,400 were killed and 10,000 injured in 11,180 accidents, marking a respective decrease of more than 211 and 2,100 in 1,650 cases.
During the period, the number of traffic accidents outside urban areas accounted for 68.2 percent of the total and is likely to rise during holidays, partly due to limited awareness about traffic safety and laws among residents in rural and mountainous areas.
Traffic law violations were mostly committed by motorbike drivers, amounting to 68.3 percent of the total.
A lack of appropriate infrastructure and enforcement forces also translated into high accident numbers in these areas.
The same day, the National Committee for Traffic Safety in association with ministries and localities convened a conference launching traffic safety schemes in the Central Highlands.