The construction of several hydropower plants in the central region is about to be completed. They should become operational from the beginning of 2011 to supply electricity output to the national power grid.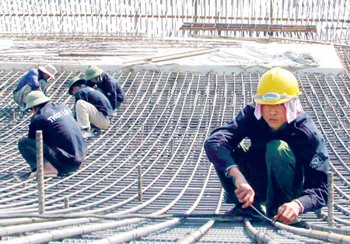 Workers prepare to pour the final concrete into the main dam at Song Tranh Hydropower Plant, in the central province of Quang Nam (Photo: SGGP)
A 12-kilometer pressure pipeline of A Luoi Hydropower Plant is under construction to take water from reservoir to the plant in Thua Thien-Hue Province. Over 100 engineers and workers have ensured that the work is has been on schedule.
The project's investor Central Hydropower Joint Stock Company said that the pressure pipeline was the most difficult item to construct.
After three years, several items have been built, and the first machine unit is to be operational by the first quarter 2011.
A Luoi is the largest hydropower plant in Thua Thien-Hue Province with a capacity of 170 MW. The total estimated cost was VND3.2 billion (US$164,000). After completion, it will produce an annual output of about 687 million kWh.
Meanwhile, after five years of construction work, the Huong Dien Hydropower Plant has operated with two machine units, whose initial capacity was 54MW.
After the third machine unit comes into operation, the plant's capacity will increase to 81 MW and the annual output will reach an average of 300 million kWh.
The Thua Thien-Hue now has three hydropower plants; the first of which began in 2009.
In Quang Nam Province, over 700 engineers and workers has run around the clock to install the second machine unit of the Song Tranh 2 Hydropower Plant, in Bac Tra My District.
This new machine unit is expected to begin generating electricity on January 20. The estimated cost of the 190 MW hydropower plant is VND5 trillion (US$256 million).
The plant will provide nearly 680 millions kWh annually.
The Song Tranh 2 is one the biggest of the eight plants, which have been planned for the Vu Gia-Thu Bon river system.
According to the hydropower project management, the Song Tranh 2 hydropower plant has faced a shortage of water, during its operation. If machine 1 is in operation, machine 2 will have to be turned off, because of water shortage. 
A Vuong Hydropower Plant, in the Dong Giang District, has also been operating at low capacity, due to water shortage.