Nine central coastal provinces from Thua Thien-Hue to Binh Thuan together hosted a conference in Da Nang City on March 21 and 22, to promote investments in the entire region as a coordinated effort.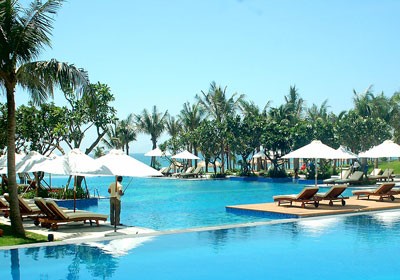 Sea tourism is a priority choice in several localities along the central coastline (Photo: SGGP)
Nguyen Ba Thanh, head of the Central Committee's Internal Affairs Commission, said that potential and advantages of the central coastal regions have not been fully exploited as yet.
He called on economists, researchers, local and central authorities and investors to join hands to put best foot forward in developing, tapping and marketing the available resources.
One representative of the Ministry of Planning and Investment said that besides Government assistance, local authorities have taken steps to develop coastal urban areas like Chan May-Lang Co, Da Nang, Hoi An, Van Tuong, Quy Nhon, Tuy Hoa and Nha Trang. This has created a climate for further development in each coastal province and has also boosted the regional economy.
So far, this region has six economic and 34 industrial zones near deep-water ports like Chan May, Tien Sa, Ky Ha, Dung Quat, Quy Nhon and Vung Ro.
However, the central coastal region faces several disadvantages in natural as well as socio-economic conditions.
According to Dr. Tran Du Lich, deputy head of the National Assembly Delegation in Ho Chi Minh City, the central coastline regularly suffers storms and flooding and the land is not too fertile either, making it the poorest region in the country. Deforestation and excessive hydropower development have worsened threat of flooding and water shortage.
In addition, there are overlapping key economic industries in localities in the central coastal region which has led to conflicts in dispersal of investment funds and growing competitive jealousies.
Dr. Bui Tat Thang, head of the Development Strategy Institute, proposed that relevant sides improve seaport and traffic infrastructure, especially inter-provincial and inter-regional traffic systems.
The development of deep-water ports, international and national airports should be in accordance with construction of economic and industrial zones to boost connection between the northern and southern regions, and between the Central Highlands and nations in the Greater Mekong Sub-region, he said.
Dr. Thang said that the most outstanding potential of the central coast is sea tourism and provinces have taken advantage of this potential quite well.
At the conference, local leaders showed a determination to join hands to attract investments and bring a new look to the entire region.
They called for more investments for key projects in the region and prioritise projects with higher socio-economic need, environment-friendly technology, more human resource development and inter-regional impact.
Activities, mechanisms and policies to promote investments from abroad must be transparent and unanimous; based on potential, advantages and benefits for the entire central region.
Gross Domestic Product (GDP) grew 8.82 percent to reach VND87.27 trillion in the central coastal regions last year, accounting for 14.21 percent of the country's GDP.
Last year's GDP per capita was VND30 million.
Total export value was estimated at US$5.13 billion, accounting for 4.48 percent of the country's exports. The region received nearly 17 million visitors, of them four million were foreigners.
Central coastal provinces have 705 foreign direct investment projects with total registered capital of $24.57 billion.