The recent Typhoon Ketsana brought much damage to the Central and Central Highlands regions of Vietnam, with estimates of VND10.48 trillion (US$602 million) of destruction caused.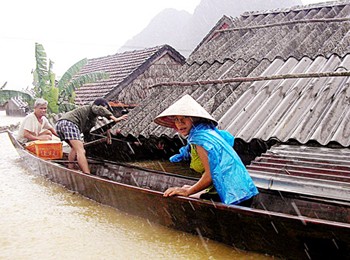 Flood water rises to house roofs in Minh Hoa District, Quang Binh Province, on October 2 (Photo: SGGP)
The Flood and Storm Prevention Center for the Central and Central Highlands regions said that Quang Ngai Province saw the greatest damage at VND4.6 trillion, followed by Quang Nam with VND3.5 trillion and Quang Tri with VND909 billion.
By October 2, thousands of damaged houses in Thua Thien-Hue had been repaired.
The province has asked the Government and central authorities for 500 tons of rice for people in flooded areas, 300 tons of rice seeds for the winter-spring crop and VND200 billion for repairing houses, schools and health centers.
The same day, Danang Urban Environment Company had collected over 80 percent of garbage from the country's ninth storm this year.
All households in the city have also been reconnected to the electricity grid.
Danang's city authority have also sprayed decontaminates and assisted families who have either suffered bereavement and injuries or had houses and boats damaged.
To cope with outbreaks of epidemics, the Ministry of Health has delivered more Cloramin B for Kon Tum Province for decontamination.
Ha Tinh faces new floods
The flood-center regions of Ha Tinh Province, Vu Quang and Huong Khe mountainous districts, has faced severe floods in recent days. All schools have closed, electricity has been cut off and communication and roads networks have been completely blocked.
Nguyen Dang Ky, deputy chairman of Vu Quang People's Committee said that heavy rains fell over October 1 and 2, with floodwater from the upper reaches of Ngan Sau and Ngan Truoi rivers converging, making the district's flood more serious.
Seven out of 12 communes and towns of the district, with over 5,000 people, have been marooned, 200 houses were submerged in water with 500 other houses having collapsed or had roofs blown off, as well as many of the roads being seriously damaged.
The army has used motor-canoes to deliver food and evacuate the elderly and children to safe places.
Five communes Huong Khe District, with 5,500 households, were also inundated with floodwater, with about 20,000 people being completely isolated.
 
In the neighboring province of Quang Binh, conditions in Minh Hoa District were no better.
Many sections of the Ho Chi Minh Trail were under over one meter of water.
In Tan Hoa Commune, flood water rose up to houses' roofs and hundreds of people had to leave their houses for the mountains to avoid floods.
Floodwater in Quang Ninh and Le Thuy Districts is now slowly receding, though over 30,000 houses still remain cutoff.
Students can not go to schools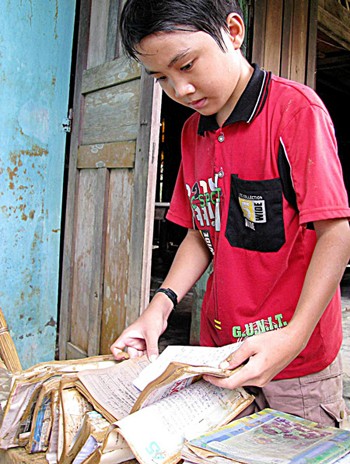 A student in Quang Nam Province with wet textbooks and notebooks (Photo: SGGP)
All students in Dai Loc District, Quang Nam Province, have not been able to go to school due to floodwater and mud left after floods by October 2.
Quang Binh Department of Education and Training said that in a few more days, some schools in Quang Ninh and Le Thuy Districts may reopen.
Tran Xuan Phu, chairman of Quang Dien District, Thua Thien – Hue Province said that students in some communes have to wait from seven to ten days to return schools.
Many communes in Hai Lang and Thieu Phong Districts of Quang Tri were still submerged. About 10,000 students have been told to stay home. Schools are expected to reopen by October 7.
In related news, the damaged rail track in Binh Son District, Quang Ngai Province is slowly being repaired though remains on schedule, Pham Quynh, head of Quang Ngai Railway Station said.
Elsewhere, many people are anxious to return their homes after getting stuck in storm-hit regions, with coach owners taking advantage and massively increasing the cost of tickets.
For instance, a passenger had to pay VND90,000 to travel from Da Nang to Quy Nhon town instead of VND70,000 as usual.
At markets and supermarkets in Hue and Da Nang, the prices for vegetables and fruit have doubled.