The early end to the last rainy season and long-lasting heat waves has caused drought on wide areas in the central region.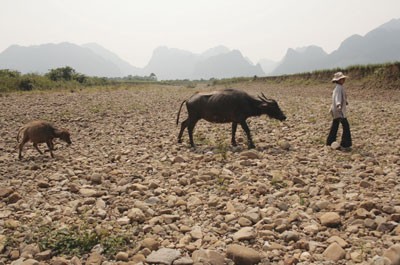 Vuc Cheo River has been depleted in Xuan Trach and Phuc Trach Communes, Bo Trach District in Quang Binh Province (Photo: SGGP)
The north-central province of Quang Binh is among the worst hit. Hoang Minh De, chairman of the People's Committee in Tuyen Hoa District, said that the rainfall was too little last year making reservoirs unable to accumulate adequate water. Drought is ongoing and likely to worsen in the next few months.
Dinh Quy Nhan, chairman of the People's Committee in Minh Hoa District, said that the water level on rivers, springs and reservoirs in the district has fallen by half over the same period last year. Thousands of hectares of corn, cassava plants are going short of water.
 
At least 500 hectares of corn and peanut plants are in danger of complete loss. The Vuc Cheo River has been depleted in Xuan Trach and Phuc Trac Communes.
Drought has also affected thousands of hectares of rice in Thua Thien-Hue Province. The Irrigation Management and Exploitation Company in the province said that the water volume of 14 irrigation reservoirs now reaches only 50-60 percent. River level is 0.2-0.3m lower than previous years. The condition is expected to be severer from June to September this year.
The drought has also caused difficulties to hydropower plants. Reservoir of the Ba Ha River Hydropower Plant is always at the dead level of 101m in Phu Yen Province. Since last November, the plant has had to reduce the power output.
Dang Van Tuan, director of the Ba Ha River Hydropower Company, said that they have meet with a lot of difficulties in the provision of water to residents and farming production in an area of about 20,000 hectares.
Sharing the same concern, Pham Van Cuc, director of the Dong Nai Hydropower Plant, said that it has not rained since the end of October, causing the reservoir level recede by five meters over normal by late January. He concerns that the condition will worsen as there is usually no rain in February and March.

According to the National Hydro Meteorological Forecasting Center, the dry season will be severe in the central and central highland regions this year.
River level will drop by 15-30 percent compared to average level of several years in Thanh Hoa and Nghe An Provinces and 40-50 percent in provinces between Ha Tinh and Binh Thuan.
The Central Highlands will see it 10-15 percent lower than average level of several years.