Leaders of Ha Tinh and Quang Binh provinces and Da Nang city have moved to beaches to swim in the sea and enjoy dishes made of fish from fishing boats, which came back from Paracel and Spratly Archipelagoes during the four day holiday of the Reunification Day (April 30) and May Day to assure the public mind on mass death in fish.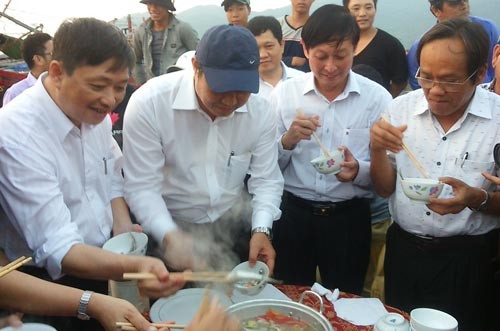 Da Nang city leaders have fish pot au feu at Tho Quang fishing port on April 30 (Photo: SGGP)
Da Nang city Party Committee Secretary Nguyen Xuan Anh and People's Committee chairman Huynh Duc Tho together with city officials this morning swam in the sea in Son Tra District. 
Many tourists have hesitated to swim in the sea after the north central fish death but Da Nang waters have not been intoxicated as they feared, they said. 
They arrived at Tho Quang fishing port to visit fishing boat owners, fishermen and traders and have pot au feu made of fish taken from the boats right at the port in the afternoon of April 30. 
Chairman Huynh Duc Tho said that he would instruct the canteen serving 1,600 officials and civil servant at the city's administrative center to intensify fish menu everyday. 
Mr. Tho proposed authorized agencies to soon issue official conclusions on the safety of Da Nang waters and publicly announce it to set citizens and visitors' minds at rest.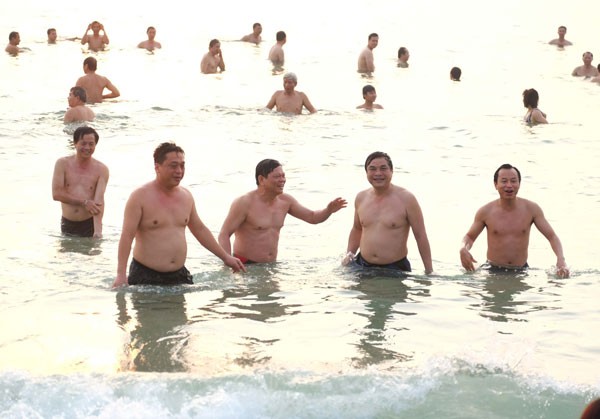 City leaders swim in the sea on May 1 (Photo: SGGP)

On the same day, the Ha Tinh province Department of Natural Resources and Environment announced that tested seawater samples are safe at six beaches namely Xuan Hai, Xuan Thanh, Thach Hai, Thien Can, Ky Ninh and Mui Dao. 
The department's director together with his relatives and officials from the department were present at Thien Cam tourist site in Cam Xuyen district to take a rest and swim in the sea. 
Experts will continue taking water samples from these waters twice a day for testing until May 6 and report results to the provincial People's Committee and the Ministry of Natural Resources and Environment, the department said. 
On April 29, the observation center of the ministry made an announcement on water quality in the coastal area of Quang Binh province. 
Water samples taken from Nhat Le and Hai Ninh waters, where saw mass fish deaths formerly, on April 28 and 29 were tested and confirmed safe for human activities such as sea swimming and water sports.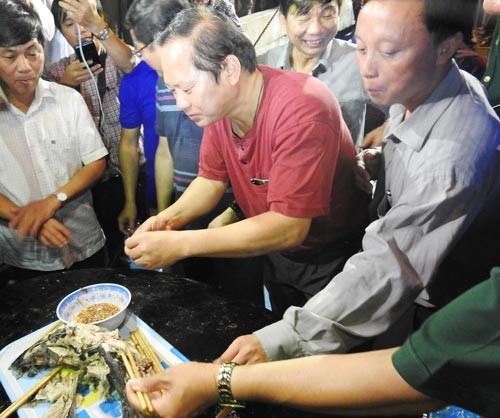 Minister of Information and Telecommunications Truong Minh Tuan (red t-shirt) invites journalists to have fish in Quang Binh (Photo: SGGP)

After a meeting with Quang Binh authorities and citizens, Minister of Information and Communications Truong Minh Tuan invited journalists to have fish dishes at Hai Yen seafood restaurant in Dong Hoi city. 
Minister Truong Minh Tuan said that while waiting for conclusions from authorized agencies on the case, media organizations should keep news accurately and objectively to calm down people who are anxious and ostracizing aquatic products with clear origin in order not to affect the lives of offshore fishermen. 
Besides, they should timely inform the public and authorized agencies any case transporting, trading and consuming seafood products from polluted waters, which fail to meet food safety and hygiene. 
Minister Tuan was the first customer of offshore fishing boats landing at Nhat Le port last night. Afterwards provincial leaders also purchased ocean tunas and other fish, followed by reporters and nearby citizens who have not had fish for many days.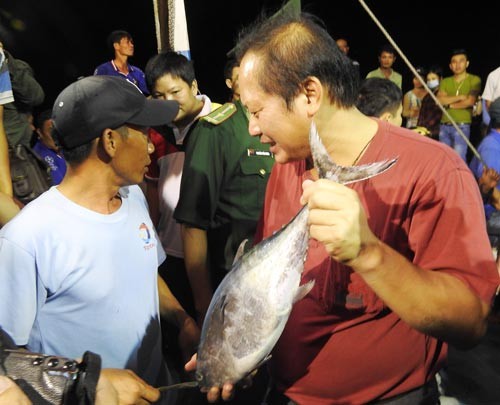 Minister Truong Minh Tuan buys fish from fishing boats in Quang Binh (Photo: SGGP)
Related article:
Environment Minister admits to shortcoming in central fish death