The central coastal region of Vietnam has been chosen to develop 'The Heritage Road' programme, being home to thousands of cultural and historical monuments, some already well-known and promoted as tourist heritage sites.However, hundreds of heritage sites and monuments continue to be neglected and are fast crumbling because of lack of government attention and poor awareness of the public.
Monuments need restoration
Located in Quang Phu Ward, about three kilometres from the central city of Quang Ngai is the neglected and forgotten historical monument of Bui Ta Han, which was marked a national heritage in 1990.

With no proper restoration, the structure lies badly damaged today. The floor tiles are chipping off while the precinct is being used to grow ginger, sweet potato or part of it is inundated with weeds.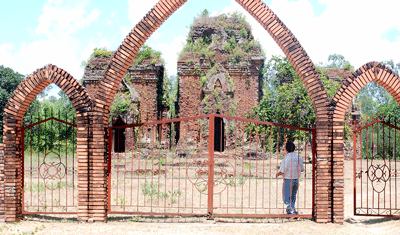 The heritage monument of Chien Dan Towers (Photo: SGGP)
According to Vo Thi Hoa, a fourteenth generation Bui, each year on the fifteenth day of the 4th lunar month, Bui descendants gather together and hold a small ceremony for their ancestors, using their own money.

Hoa is a Bui daughter-in-law, and she tries her best to keep the yard clean around the monument, as the local authorities have neglected the place.

Under the same situation is the historical monument of Dien Nien in Phuoc Binh Village of Tinh Son Commune in Son Tinh District, where South Korean soldiers massacred 280 Vietnamese of Phuoc Binh and Dien Nien Villages, 47 years ago. A national heritage site since 1994, the monument has only a memorial plaque left, with names of a few people on it. Its precinct is filled with waste and being used as a temporary car park for nearby households.

The central province of Quang Nam, famous for Cham culture, should have invested money into renovating old structures that are its pride. Yet reality is far from the fact. Consisting of three tall towers built at the end of the 10th century – the period that Champa rulers moved their capital from Quang Nam Province to the central province of Binh Dinh under the rule of King Yan Pu Ku Vijaba – the cultural monument of Chien Dan, located in Tam An Commune of Phu Ninh District, also lies in neglected condition.

Although it escaped the devastation of the civil wars, it cannot avoid destruction of time. In contrast to the famous cultural monument of My Son in Duy Xuyen District, comprising of towers and temples and being a part of 'The Heritage Road' programme, Chien Dan has received no attention from local authorities and tourist companies since it is not listed in the 'Heritage Road' programme.

There is only an ugly iron gate which was built by the Department of Culture, Information and Tourism of Quang Nam to protect the inside structures from unwanted vandalism.

A visit to the spiritual monastery of Dong Duong in Binh Dinh Bac Commune of Thang Binh District shows that the place shares the same unlucky fate. Formerly considered one of the most important centres for research and study on Buddhism in Southeast Asia, the building is now surrounded by tall trees.

The five metre high and three metre wide Sang Tower, the only remaining part of this structure, is nearly covered with moss and any historical object in the building has disappeared. In addition, people living in the neighbourhood freely take away bricks from the structure for their own construction purposes.

Truong Van Viet, Chairman of the People's Committee of Binh Dinh Bac Commune, sadly reported that the national heritage of Dong Duong Monastery was now in ruins. Without proper investment from the government, the only thing that local authorities could do was a temporary repair about 7-8 years ago, said Viet.
Promising plans for future
According to Le Thi Chung, Director of the Quang Ngai Museum, the miserable fate of these heritage sites is because of unclear regulations and lack of responsibility of concerned agencies for management, restoration and protection of national heritage sites in general.

A few districts do have a small budget for restoration of these monuments, but most pass the work on to local museums, where human resources as well as budgets are not sufficient to fulfill the task.

Nguyen Dang Vu, Director of the Department of Culture, Information and Tourism of Quang Ngai Province, stated that the budget of the government for the programme 'Restoration of National Heritage Sites', provided by the Ministry of Culture, Information and Tourism, was only about VND1 billion (approx. US$47,960) per year and was not enough for all 26 current monuments in the province.
Hence the Department of Culture, Information and Tourism of Quang Ngai focuses on repairing run-down monuments only.

Moreover, they have already filed a request for an increased budget to restore certain national heritage sites such as the historical monument of Binh Hoa and Dien Nien-Phuoc Binh, but have not received any response yet.

Meanwhile, the People's Committee of Quang Nam Province has just approved a project 'Urgent Restoration of Provincial Heritage Sites during the  period 2011-2020' with a budget of more than VND42 billion ($2.014 million) to gradually repair 32 monuments that are in terrible condition and 89 that are almost in ruins.

There is hope that with such efforts from local authorities will help save the pride and heritage of the Central Coastal Region and leave a legacy for future generations.