The prolonged heat wave in the central region since the beginning of the dry season this year has brought about severe drought conditions cross the region, prompting local authorities to gear up to protect the agricultural production.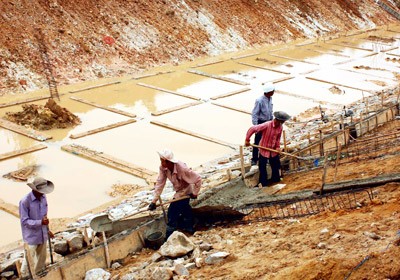 Thach Nham Canal undergoing repairs to retain water for farm agriculture (Photo: SGGP)
River levels have receded greatly, affecting the water source for irrigation in several areas.
Ve and Tra Khuc Rivers have gone down in the central province of Quang Ngai, where reservoirs have accumulated only 70 per cent of their capacity of water, said Dao Minh Huong, deputy director of the provincial Department of Agriculture and Rural Development.
According to Mr. Huong, the agriculture industry has guided farmers to switch from cultivating wet rice to sugar cane and cassava crops, to avoid the drought.
Thua Thien-Hue and Quang Tri Provinces have also advised farmers to cultivate summer-autumn rice crop a fortnight sooner than normal and choose the short-term rice variety.

The People's Committee of Thua Thien-Hue Province has instructed the management boards of hydropower plants to release water only when the agriculture department asks, to ensure that there is enough water for irrigation for agriculture.

Since early May, the Department of Agriculture and Rural Development in Quang Tri Province has set up plans to cope with the drought.

Meanwhile, prevalent hot and dry weather has worsened salt penetration in the lower reaches of the Han and Yen Rivers in Da Nang City.
Low river levels and salt intrusion have also affected the water quality in the Cau Do Water Supply Company (Dawaco), which provides water to the entire Da Nang City.

Ong Van My, from Dawaco, said that the plant has to stop taking water from the Cam Le River due to high salt penetration and instead pump water from the An Trach Pumping Station and Son Tra Spring.
However, if sunny and hot weather continues to prevail, the water supply from An Trach Station will soon run out.

Dawaco has proposed to concerned organisations to instruct hydropower plants, in the upper reaches of Vu Gia River including Dak Mi 4, to release water at 25 cubic metres per second to reduce the salt penetration in the Cau Do Plant area, ensuring water supply for tens of thousands of residents.
Nguyen Thai Lan, head of the Hydro Meteorological Centre in mid-central region, said that severe hot weather has occurred since the beginning of May but hot conditions will abate in the next few days only to return by mid May.
At present, rivers in the central region have begun to dry out and salt penetration has worsened in several areas, placing the central region vulnerable to drought, he said.