Flood levels in the central region continued to rise on Monday inundating tens of thousands of houses, disrupting traffic in several areas and leaving at least seven dead and missing.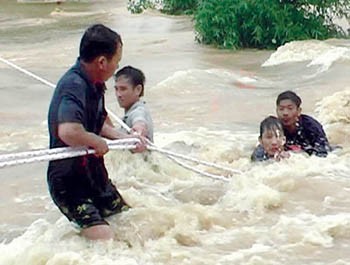 Local residents use ropes to rescue three people from being swept away by floodwaters in Nui Thanh District of Quang Nam Province on October 17 (Photo: SGGP)
National Highway 1A was still submerged under floodwaters in Le Thuy District in Quang Binh Province on Monday morning.
Traffic police have diverted vehicles towards Ho Chi Minh Highway for travel north as several sections of Highway 1A were under floodwaters in Quang Binh and Quang Tri Provinces.
Sections of rail tracks have submerged, stranding 2,035 passengers aboard five trains in Quang Tri Province. The train management authorities prepared food for passengers while waiting for the floodwaters to recede.
By Monday evening, the landslide on the rail track across Hai Van mountain pass was cleared, permitting two trains with over 800 passengers stranded in Da Nang City to depart for Hue.
Local residents used ropes to save three persons who were being swept away from the upper reaches of Rai River in Tam My Tay Commune in Nui Thanh District of Quang Nam Province. They were found clinging on to bushes and struggling to fight the strong flood currents for six hours, before they were rescued.
Quang Tri Province reported three people dead and missing, 14,000 houses inundated under two meters of floodwaters, and over 5,000 people evacuated from flood hit areas.
Rescue teams transported bottled water and instant noodles to people marooned in Dakrong District.
A 40 year old woman died when her boat overturned in Thua Thien-Hue Province where floods have submerged over 10,000 homes. Several households near rivers and lagoons are under one meter of water and the provincial authorities have relocated 1,000 people from low-lying areas.
Floods have devastated Dai Hung, Dai Lanh and Dai Dong Communes in Dai Loc District and disrupted traffic in Nong Son and Duy Xuyen Districts of Quang Nam Province.
The rapidly rising floodwaters also submerged Mo Duc District in Quang Ngai Province. Highway 1A is flooded under 0.5 meter of water in Duc Tan Commune causing severe traffic jam.
District authorities have mobilized motor boats to rescue students who got stuck while at school and residents stranded in flooded areas.
300 households of the Hre ethnic minority are completely isolated after tens of cubic meters of mud fell down in Tho An mountain pass in Binh An Commune of Binh Son District in the province.