Tens of thousands of residents in the central region are facing severe drought conditions and a serious shortage of freshwater with several areas having no means to irrigate their arid fields for the last one month.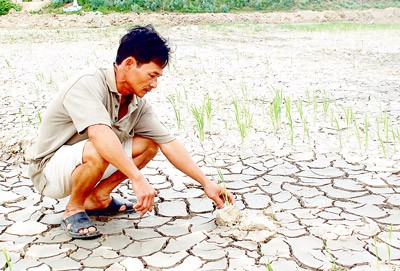 A farmer surveys his parched rice field in Ngu Hanh Son District in Da Nang City (Photo: SGGP)
Meteorologists forecast that the scorching weather will prolong further, putting crops in higher risk in the entire area.
Vo Thi Hau, of Hoa Quy Ward in Ngu Hanh Son District of Da Nang City, has been on tenterhooks for the last one week as her rice fields are drying out from lack of irrigation water. Her family has six members who all depend on rice farming as a sole means of livelihood.
Another 100 households living on 60 hectares under rice cultivation are also in a similar situation in Hoa Quy Ward.
Huynh Van Thang, deputy director of the Department of Agriculture and Rural Development in Da Nang City, said that more than 6,000 hectares of rice cultivation are currently under threat.
In the neighboring province of Quang Nam, more than 250 hectares of rice crops are facing a severe lack of irrigation water in Dien Ngoc Commune in Dien Ban District.
Pumping stations along Vinh Dien River cannot operate due to high salinity, which is 10 times more than permissible limits.
Tran Huu Chung, deputy head of the Tu Cau Pumping Station, said that they have set up makeshift pumping stations to take water from ponds to save the rice crop but ponds are also depleting.
The provincial Department of Agriculture and Rural Development said that the water level in several reservoirs like Phu Ninh, Vinh Trinh, Thach Ban, Khe Tan and Viet An has dropped below normal.
Salinity has paralyzed most pumping stations for the last one month. More than 36,000 hectares of rice crops and 10,000 hectares of vegetables crops are fast burning out.
More than 10,000 hectares of rice and thousands of hectares of vegetables have also wilted in Quang Tri and Thua Thien-Hue Provinces.
Shortage of freshwater
Tens of thousands of households in the central region are facing a severe shortage of freshwater.
NguyenThi Hoa, a resident of Hoa Cuong apartment block in Da Nang City, said that for the last one month, she has to go downstairs with buckets to transport water up every night as there is no water on the second floor and above.
 
Hoa said her family has to have a bath at relatives' houses and take clothes to the laundry.
Drought conditions in the region have caused the Cau Do Water Treatment Plant, the main water supplier in Da Nang City, to become more saline in the last two months.
The plant has to pump water from the An Trach Dam to supply the city but now the dam water level has receded too.
One of the worst hit areas is Vinh Dien Town in Dien Ban District of Quang Nam Province.
Vo Hien, deputy director of the Vinh Dien Water Treatment Plant, said that salinity has never been as worse as this year. Because the plant doesn't have a substitute source of water besides the rivers, it has been forced to wait for salinity to reduce before pumping water into treatment tanks for supply to residents.
The most miserable plight may be that of thousands of households in Dakrong District in Quang Tri Province, which is reeling under scorching hot and dry winds. Rivers and springs have dried up, causing residents to cook without water, let alone washing.
Local residents have had to dig wells near springs to extract very muddy water.
Hydropower plants-main culprits
 
Nguyen Huu Phuong, a resident from Dien Ngoc Commune of Dien Ban District in Quang Nam Province, said that hydropower plants have worsened the drought by not opening their gates.
Authorities must implement strict instructions on hydropower plants to release water to save the regions rice cultivation, he said.
Huynh Van Thang, deputy head of the Department of Agriculture and Rural Development of Da Nang City, said that the main reason for the salinity is that too little water is released from the upper reaches.
Dak Mi 4 Hydropower Plant has accumulated water from Vu Gia River but released water into Thu Bon River. Two years ago, Da Nang City residents had petitioned the Government to instruct the Dak Mi 4 plant to discharge water to Vu Gia River at 48 cubic meters per second, but the plant has intermittently released only 25 cubic meters a second. The water volume has even dropped to 6-8 cubic meters per second due to drought in the last one month.
Local authorities have implemented many measures to save the rice crop but if it does not rain in the next few days and hydropower plants do not open their gates, tens of thousands of hectares under cultivation rice will be totally destroyed.