The National Hydro-Meteorology Forecast Centre on November 9 said that heavy rain is forecast to continue in the central provinces. Discharge from hydro-power lakes also caused high level of water in Dinh River in Ninh Hoa District, Khanh Hoa Province.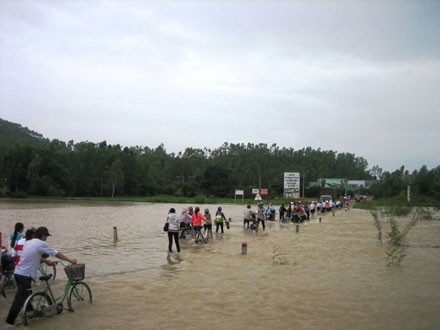 Floods resulted from heavy rains submerge roads in Binh Dinh Province. (Photo: Dan tri)
The people of south-central Viet Nam are again flood stricken just a week after they were last inundated.
The National Hydro-meteorological Forecast Centre has warned of possible flash floods and landslide.
The National Flood and Storm Prevention and Control Committee instructed flood and storm prevention and control committees from Quang Ngai to Phu Yen, Khanh Hoa and Dak Lak to Gia Lai to plan for alarm-level floods.
It also requires the committees to inspect and ensure reservoir safety; assign guards for submerged land and ferry stations; provide more food and drink for high-risk precincts and be ready with personnel and equipment to help with rescue work.
Rainfall ranged between 20-80mm over the past two days in some provinces. Phu Yen and Binh Dinh were the hardest hit.
Water in rivers from Quang Ngai to Phu Yen and from Gia Lai to Dac Lak in the central highlands has risen to alarming heights and people are being evacuated to higher ground.
In related news, heavy rains continue to fall in Binh Dinh Province, causing water in rivers has risen to alarming heights.
The province's districts such as Tuy Phuoc, Phu Cat,  An Nhon and Hoai Nhon were inundated again. In addition, the flood also submerged many roads, resulting in traffic jams
On November 9, 50,000 students had to be absent from schools in Tuy Phuoc and Phu Cat districts.
According to the provincial Committee for Flood and Storm Control, heavy rains from October 30 to November 11 left seven dead, one missing, two injured, destroyed and swept away 137 houses, submerged 3,815 houses and isolated more than 1,975 households. Total loss is estimated around VND500 billion (US$25 million).
Related article:
Thousands of households in central provinces isolated by floods