Throughout the year, many parts of the central region have to bear the brunt of storms and floods, heavy deposits on river beds, landslides along sea dykes and mountainous sections, and deforestation from titanium mining.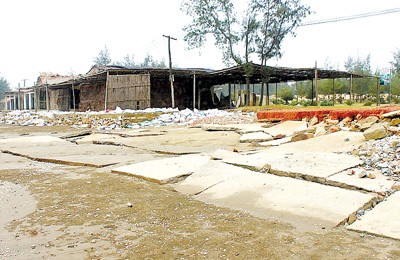 A sluggish project to upgrade the sea dyke in Loc Ha District of Ha Tinh Province (Photo: SGGP)
Ben Hai river delta near the Cua Tung Sea is where most fishing boats take shelter during the storm season and transport seafood to Quang Tri Province. However, much of the river bed is now filled with mud and sand deposits, making it difficult for boats to maneuver.
Nguyen Dinh Te, chairman of the People's Committee of Cua Tung Town, said that these deposits have been increasing for the last five years. Several boats get slammed by high waves during the storm season as they cannot move out in time to take shelter.
The left embankment of Huong River in Thua Thien-Hue Province protects 600 hectares of rice cultivation in its lowlands. However, at least 13 leaks have occurred along the embankment that threatens the food source.
According to Phan Thanh Hung, head of the Flood and Storm Prevention and Dyke Management Department in the province, high tides have collapsed or damaged some sections of the Huong River embankment.
Similarly, sea dykes in Loc Ha District of Ha Tinh Province have been badly eroded by high waves.
Nguyen Ha Hong, from the People's Committee in Thach Kim Commune, said that sea water intrusion has caused many fields to be abandoned, while several seafood breeding areas, traffic and irrigation works, have been swept away.
At the end of last year, a 200m dyke stretch breached, forcing several households to evacuate their homes in Thach Kim and Thach Bang Communes.
Titanium mining has devastated large tracts of poplar forests along 50 kilometers of the coast in Phu My and Phu Cat Districts of Binh Dinh Province.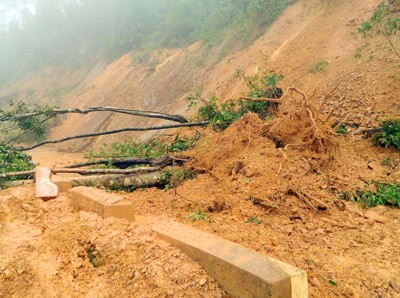 The road leading to the mountainous communes in Tay Giang District of Quang Nam Province is regularly cut off due to landslides (Photo: SGGP)
The worst deforestation of poplar trees occurs in My Thanh, My An and My Tho Communes in Phu My District. Local people now live in a denuded area where sand grit flies all over their homes and furniture whenever there is a strong wind.
Mountainous districts like Tay Giang, Dong Giang, Nam Giang and Nam Tra My in Quang Nam Province are in danger of being isolated and cut off due to landslides.
Highway 14G, the main route connecting Da Nang City with Dong Giang and Tay Giang Districts, experienced a severe landslide which blocked vehicular traffic for a long period during the rainy season in 2009.
Da Nang City then invested in upgrading the route but landslides have continued to recur after every heavy rainfall.

Landslides along the A Vuong hydropower reservoir have swept away several houses and schools in Alua K'la and PachePalanh resettlement areas in Tay Giang District of Quang Nam Province and now threaten the headquarters of the People's Committee of Dang Commune.
The Tay Giang District authorities planned to relocate 115 households since the beginning this year. However they have so far been able to move only 70 households and are rushing to complete construction of resettlement houses to move the remaining 45 households.
Construction of the road connecting Lang Commune to Tr'Hy, Axan, G'Ry, Ch'Um Communes is running behind schedule, putting local people in threat of being marooned in the coming rainy season, said chairman of Tay Giang District People's Committee.