Swollen rivers in the Central region and Central Highlands have fallen to warning Level 1, with local residents beginning to repair the damage caused by the floods, the Flood and Storm Prevention Center for the two regions said September 10.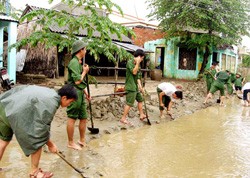 Soldiers in the city of Da Nang help people to clear a damaged road (Photo: SGGP)
Farmers have harvested flooded areas of the summer-fall rice crop with assistance from youths and soldiers.
According to one unverified report, by September 10, people from Quang Binh to Quang Ngai provinces had already harvested over 5,000 hectares of rice.
Local areas have also begun to repair damaged roads and bridges and clean up the living environment to prevent outbreaks of water-born diseases.
The same day, Quang Tri Province's People's Committee approved the building of a 14 kilometer road through Hai Lang District to avoid floods and help rescue people in low-lying communes, as well as serving the building of My Thuy sea port in future.
The road, paid for by Government bonds, also aims to develop the economy and ensure national security for the coastal region in the province.