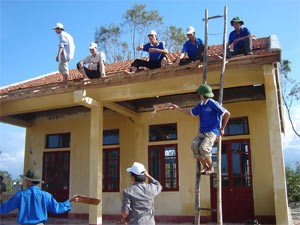 Student volunteers rebuild a primary school in Da Nang after the typhoon Xangsane
The Da Nang authority has sent out directives for relevant agencies to help people affected by typhoon Xangsane rebuild homes and factories before the coming Tet holiday.
Latest counts show that over 87,000 homes were destroyed by typhoon Xangsane which represents nearly 50 percent of the total houses in Da Nang. About VND60 billion has been collected by generous benefactors and in turn delivered to make interim life easier for local citizens.
Over the past month, more than 34 percent of completely ruined homes have been rebuilt, 71 percent of partially damaged houses were repaired, and 62 percent of homes have been re-roofed.
Da Nang leaders also asked local officials to draw on the experience to prevent and reduce potential flood damages while publicly announcing the relief, including food and cash, that is being delivered to affected citizens.
Local officials need to pay more attention to the sharp price increase for home-building materials which has caused trouble for villagers in the recent past.
In the nearby province of Quang Ngai, nearly VND10.625 billion in relief has been collected from the state budget, and other donors, for the villagers' recovery from Xangsane. This money will be used to resume businesses and rebuild the 700 ruined homes of the region.
Phu Yen authorities have provided hundreds of buoys and life jackets for villages in flood-prone areas. Groups of rescue workers have been gathered to prepare for the possibility of future floods.