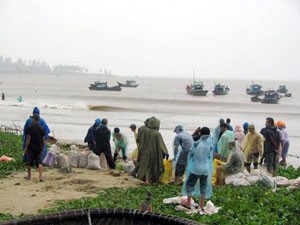 People wait for their relatives' news (Photo: VietNamNet)
At least 44 fishermen have been killed in Central Viet Nam and hundreds are still missing, thousands are losing contact and hundreds of fishing- vessels have been destroyed as typhoon Chanchu attacked Central Viet Nam coastal region.
The number of dead bodies recovered has increased hour by hour. By Saturday, two storm-battered vessels had recovered 28 bodies from the sea, said provincial coastal and border guard officials who had re-established radio contact with some vessels.
And 298 sailors were reported out of contact and unaccounted for, with 176 missing in Da Nang, 95 in nearby Quang Nam Province and 27 in Quang Ngai Province.
Rescue forces from the central coastal province of Quang Ngai said that on May 19 they saved all 17 people from two fishing boats sunken by typhoon Chanchu. By noon on May 19, 53 fishermen had been rescued

The boats were among 11 fishing vessels which were fishing on waters of the Hoang Sa archipelargo and trying to shelter from the typhoon at the nearest islands, said the provincial borderguards command.
The rescued were identified as natives of Nghia An commune, Tu Nghia district.
Earlier in the day, rescue forces reported that they had saved another victim and recovered four bodies from two other sunken ships.
Searches are continuing for 27 sailors reported missing from three other fishing boats.
The central coastal city of Da Nang said it will send ships to the scene to bring the rescued victims onshore in the next two days.
"The typhoon did not hit Viet Nam, it was in the offshore Viet Nam, and many of Vietnamese fishermen were out on long fishing trips. The vessels in region of disaster sought shelter in the waters of neighbor countries. So it is difficult for rescue forces to contact with them", said Head of Da Nang 's Flood and Storm Control Steering CommitteeTran Phuoc Chinh
Mr. Duong De Dung, Deputy Chief of commander of Da Nang's Border Guard informed that Chinese rescue forces deployed on May 19 to seek Vietnamese vessels, replying to Vietnamese diplomatic note asking for China's help.
At five o'clock in the morning of May 20, a Chinese salvage tug made contact successfully with the one of the vessels carrying the dead bodies. At nine o'clock this morning, two Chinese tugs approached two Vietnamese body- carrying vessels. The Chinese rescue forces gave first add, provided medicine, fuel, food and even sault to embalm the bodies.
Two days ago, China received suggest from Viet Nam for help> However they could not answer because the Vietnamese vessels were in the sensitive sea region between China and territory Taiwan. At that time, Taiwan deployed salvage tugs and helicopters to help Vietnamese fishermen. When Vietnamese vessels went to Chinese territorial waters China deployed rescue forces immediately.
Mr. Dung added two body carrying vessels are running at very low speed. It is predicted that they will arrive at port on Monday.