Floods caused by Typhoon Mirinae that made landfall over Vietnam's central region November 2 have killed at least 91 people and left 20 others missing.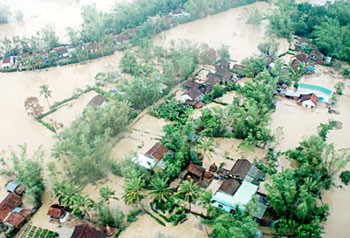 Many areas in Binh Dinh Province remain inundated by the floods caused by Typhoon Mirinae (Photo: SGGP)
Phu Yen Province was the worst hit with 65 dead and 16 missing.
In the mountainous district of Dong Xuan alone 30 were killed and 12 are missing. In Tuy An District 20 died and three are missing and in Song Cau town 13 died and one is missing.
Around 145 boats sank while 413 houses collapsed and 5,542 others lost their roofs.
The province has sought from the Government 120,000 boxes of instant noodles and 4,000 tons of rice for residents in affected areas and medicines to prevent waterborne diseases.
It has also asked for VND550 billion (US$31 million), 1,500 tons of rice seeds, and 10 tons of vegetable seeds.
Deputy Prime Minister Hoang Trung Hai visited the province November 4 to investigate and oversee relief operations.
He dispatched three helicopters to deliver food and water to stranded people and instructed local authorities to provide relief materials to people in marooned areas.
They have been unable to reach many houses in Tuy An District and Song Cau town.
Tuy Hoa city and some areas in Phu Hoa and Tay Hoa Districts remain badly inundated.
The deputy prime minster also visited the neighboring province of Binh Dinh the same day where 13 people died, three are missing, and 15 are injured.
The 11th storm to hit Vietnam this year also destroyed 311 homes, damaged 3,549 others, and has left 41,751 others submerged.
Around 9,300 hectares of rice and farm produce were damaged, with the floods sweeping away over 900 tons of rice seeds meant for the winter-spring crop.
Around 30,000 buffalos, 50,000 pigs, and a large number of chickens were swept away.
Binh Dinh authorities have reported a total loss of VND887 billion (US$49 million).
They asked the Government to dispatch 50 tons of instant noodles and 5,000 tons of rice and other items.
Mr. Hai instructed them to assist marooned residents, search for missing people, call on families that have suffered losses, and ensure no one is hungry, thirsty, or cold.
In Khanh Hoa Province, 12 people died, one is missing, and nine were injured. Many areas remain inundated and cut off by the floodwaters.
Some 2,000 aquaculture "cages" were swept away, 70 boats were sunk, 200 houses collapsed, and 1,000 others had their roofs blown off.
Heavy rains have flooded many streets in Nha Trang, with some under a meter or more of water.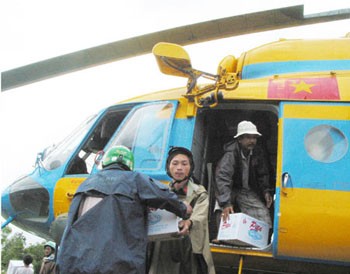 A helicopter delivers water and noodles to storm Mirinae's victims in Dong Xuan, the worst hit district in Phu Yen Province (Photo: SGGP)
The storm also caused one death in Ninh Thuan Province, destroyed or damaged 86 houses, and submerged 2,800 hectares of crops.
It also damaged many canals and roads and around 50 hectares of aquaculture farms.
Quang Ngai Province reported no deaths though four people were injured and hundreds of houses were destroyed or damaged.
Mirinae also caused floods and damaged houses, schools, roads, and irrigations works in the Central Highlands provinces of Gia Lai and Dac Lac. The latter has reported damages worth VND83 billion (US$4.6 million).
In related news, a delegation from the Vietnam Red Cross Association visited Phu Yen, Binh Dinh, Khanh Hoa, and Ninh Thuan Provinces to hand over relief materials, including food, clothes, and money worth VND700 million.
It also called on families that suffered losses and gave each bereaved family VND2 million.
Through Sai Gon Giai Phong, the Vietnam Southern Food Corporation donated over VND500 million and the Vietnam House Joint Stock Company gave VND20 million to assist victims.
The newspaper itself donated VND50 million to buy noodles for people in Binh Dinh Province.