Vietnam's National Traffic Safety Committee (NTSC) held a ceremony in Hanoi on November 15 to commemorate the victims of fatal road traffic accidents and call for people's higher road sense.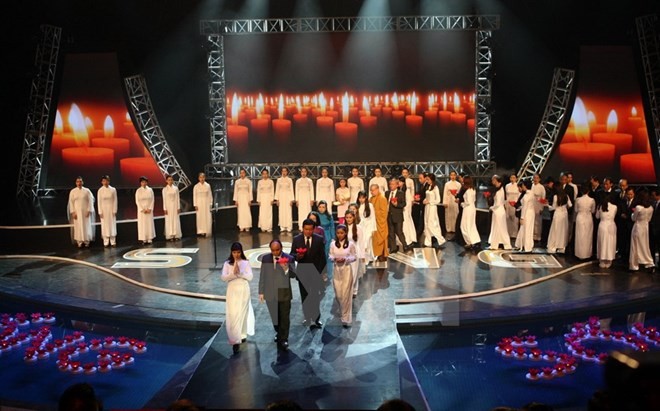 At the ceremony to commemorate the victims of fatal road traffic accidents on November 15 (Source: VNA)
The event was organised in response to the World Day of Remembrance for Victims of Road Traffic Accidents, which falls on the third Sunday of November. This is the fourth year such a ceremony has been held so far in Vietnam.
Deputy Prime Minister Nguyen Xuan Phuc, who is also the NTSC Chairman called on all people to obey traffic rules to ensure safety for others and for themselves.
In the light of 600 candles, participants observed a one-minute silence in honour of those who had died of traffic accidents.
Statistics of the committee reported that traffic accidents killed 1.2 million people every year worldwide.
In Vietnam, in the first 10 months of this year, traffic accidents took the lives of more than 7,000 people, injured 15,000 others.
In October, there were 1,978 traffic accidents reported from across the country, which killed 667 people and injured 1,826.
Traffic police handled 3.4 million cases of traffic violations, collecting administrative fines of 2,261 billion VND (100.4 million USD), detaining 32,000 cars and 422,500 motorbikes, and revoking 290,800 driving licenses.