A ceremony to commemorate the soldiers and sailors of the Hoang Sa (Paracel) Flotilla opened on April 18 (the 16 th day of the third lunar month) on Ly Son island in the central province of Quang Ngai.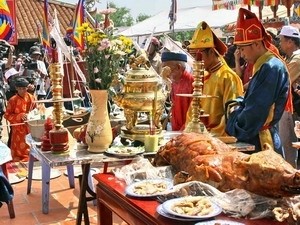 The April 18, 2011 ceremony on Ly Son Island (Photo: Vietnam News Agency)
On the afternoon of April 17, local monks, nuns and residents gathered at An Vinh communal house, praying for the fallen soldiers and sailors in the defence of the country's Hoang Sa (Paracel) and Truong Sa (Spratly) archipelagos thousands years ago.
Held in traditional rituals including the launching of imitation boats with effigies representing the Hoang Sa-Truong Sa fleets' sailors into the sea, this annual ceremony aims to educate the patriotism and strong determination to protect Vietnam's sovereignty among young people nationwide.
According to the Vietnamese feudal state's history, the Hoang Sa flotilla was set up when the Nguyen Lords began their reign in the south of the country. The troops had operated on the Hoang Sa and Truong Sa archipelagos over the past three centuries, since the time of the Nguyen Lords through the Tay Son and the Nguyen dynasties. The Hoang Sa flotilla was then also assigned to control Bac Hai (Truong Sa).