The 110th birth anniversary of the late Party General Secretary Truong Chinh was marked at a ceremony in the northern province of Nam Dinh on February 9.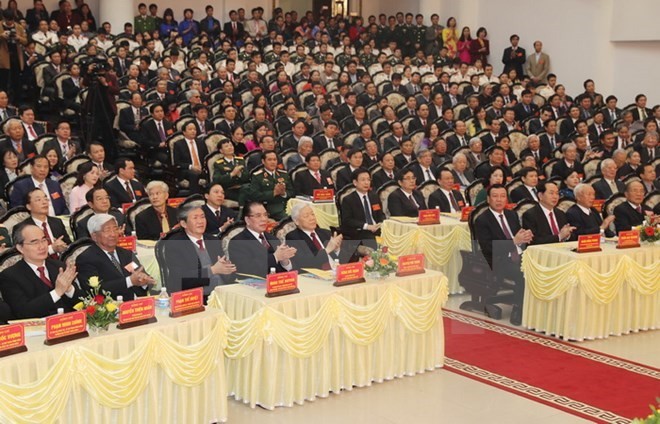 Delegates at the ceremony (Photo: VNA)
Prominent among guests at the event were Party General Secretary Nguyen Phu Trong, President Tran Dai Quang, President of the Vietnam Fatherland Front Central Committee Nguyen Thien Nhan and Politburo member and permanent member of the Party Central Committee Secretariat Dinh The Huynh.
Secretary of the Nam Dinh provincial Party Committee Doan Hong Phong delivered a speech highlighting the revolutionary career of the late Party leader, who is known as the Party General Secretary of Doi Moi (Renewal).
Truong Chinh, real name Dang Xuan Khu, was born on February 9, 1907 in Hanh Thien Village, Xuan Hong Commune, Nam Dinh's Xuan Truong District. When he was 18, Truong Chinh participated in a movement campaigning for the release of patriotic scholar Phan Boi Chau from French prison, marking the first step in his revolutionary career.
In 1927, Truong Chinh joined the Vietnam Revolutionary Youth League, the predecessor of the Indochina Communist Party. He was one of those who campaigned for the establishment of the Indochina Communist Party in North Vietnam in 1929.
Truong Chinh served as Party General Secretary three times and as a Politburo member for more than 20 years.
It was him who realised the need for and initiated the Doi Moi (Renewal) process.
The late Party leader is also known as an outstanding political theorist,  journalist, cultural researcher and poet, with many works on Marxism-Leninism and Ho Chi Minh Thought, as well as the Party's view on cultural issues, which laid the theoretical foundation for the building of a new Vietnamese culture.
"Nam Dinh is proud to be the homeland of Truong Chinh, who is a steadfast communist, a brilliant student of President Ho Chi Minh and an outstanding leader of the Communist Party and the revolution of Vietnam," said Doan Hong Phong.