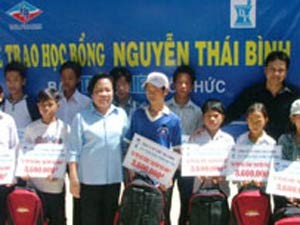 Thanh Nien gives away scholarships to children of fishermen dead or missing in Chanchu.
On July 13, Thanh Nien Newspaper started the construction of nine houses for families living at fishing village of Tu Nghia District, central province of Quang Ngai. These families had members dead or missing in typhoon Chanchu.
Each house costs VND20 million, sponsored by the newspaper's benevolent readers.
Previously, the newspaper also offered emergency financial assistances, worth of VND28 million, to many households who were victims of the typhoon.
Besides, Thanh Nien has, together with the Bien Hoa Confectionery Corporation, given away twenty VND1 million ($62.5) scholarships to students who are also children of fishermen dead or missing in Typhoon Chanchu.
The newspapers also promised to donate scholarships annually to the Quang Ngai province's pupils in the coming time so that they can continue their schooling.
Typhoon Chanchu killed 276 fishermen at sea last month and destroyed 18 fishing vessels.