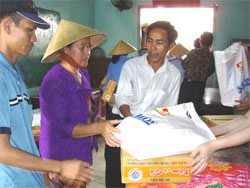 Over 100 presents were given to low-income earners. (Photo:VH)
Youth Union of Sai Gon Giai Phong Newspaper gave more than 100 presents to underprivileged people in Binh Phu Commune, Cai Lay district, Tien Giang province on March 25, 2006.
"This is one of usual social activities. We hope these presents would go someway to relieve the difficulties faced by low-income earners in the region, though the value of presents is not very high," said a member of Sai Gon Giai Phong Newspaper's group.
A big lorry carrying over 100 presents and instant noodle soup boxes arrived in the locality in the early morning.
Many elderly were deeply touched when receiving gifts from the newspaper's group.
The presents worth VND100,000 each were handed out in the morning.
Accompanying the Sai Gon Giai Phong Newspaper on the trip to this province were over 30 doctors from Tu Du Maternity Hospital with equipment and a big bag full of medicines.
In the next Binh Phu Commune Village Hospital, reporters and doctors were all surprised at the large number of people gathering in the hospital's small yard.
Local officials said that more than 400 people had been here since the early morning to wait for the doctors from Ho Chi Minh City.
Wearing casual clothes and holding invitations sent to them by the local authorities many days ago, they came to show that they really appreciate free healthcare service.
"I have been here since 5:am waiting for the doctors. So have my daughter and my niece," said an 80-year old woman.
Reportedly, the doctors did gynaecological examinations and treatments for children in the locality.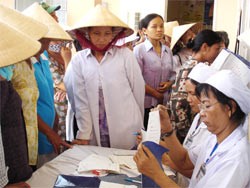 Tu Du Hospital's chemists are handing out medicines to local people. (Photo:VH)
This was also the Binh Phu Commune village hospital official opening day for public use.
The opening ceremony attracted the attendance of local leaders, representatives from Sai Gon Giai Phong Newspaper, Ho Chi Minh City Police Newspaper and hundreds of local residents.
The same day saw the exchange in music and sport activities between members of the trip and local youngsters to welcome Ho Chi Minh Communist Youth Union's anniversary.