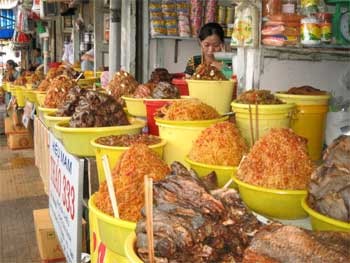 Stores of salted fish in Chau Doc market
The Department of Intellectual Property of the Ministry of Science and Technical has granted sole certification of the "Chau Doc Salted Fish" brand name to 48 private enterprises in Chau Doc, An Giang Province.
Salted fish has been a traditional dish in Mekong Delta Province for more than 100 years. There are around 150 paste processing workshops in the town.
The paste is made is from various type of fish and is sold to many consumers, both domestically and abroad, especially on the occasion of Ba Chua Xu Temple Festival. It is a convenience food and has an expiration date ranging from seven months to 1.5 years after processing.