There's been a growing demand for roomy apartments priced below VND500 million in Ha Noi for the past two weeks but such places are few and far between, even in the outer suburbs, and real estate agents have pretty well sold every suitable residence on their books.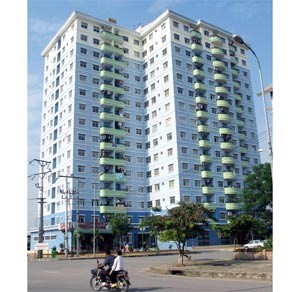 There is a growing demand for roomy apartments priced below VND500 million like aparments in Linh Dam urban area in Ha Noi
Many of the buyers and would-be buyers come from the provinces either to settle down in the capital or for a few years of college or university.
 
Others are newlyweds with limited financial resources; they're usually looking for a 55-70 square-meter apartment, even one far from the center of town.
 
Then there are the students whose parents don't want to pay rent for their children's accommodation and view a rented house as uncomfortable, unsafe and not conducive to study.

What these parents want is a small apartment worth about VND400 million, but there are none they deem suitable.

Rather surprisingly, given that Ha Noi's property market is picking up, apartment prices have been falling in the city, yet a decent place of a decent size is still beyond the reach of most people.

Even near the bottom end of the scale, where the price per square meter can be as low as VND6.8 million, a 76-square-meter apartment still works out at VND516 million.

More likely apartments of this size are priced from VND700 million to one billion and though many are advertised for sale, buyers are rare. Often a home seeker can only afford a 55 square-meter apartment costing a bit under VND400 million.

Ha Noi's Department of Natural Resources, Environment, Land and Housing says there's a great shortage of appropriate dwellings in the city.
 
In recent years, State funds have only been invested in housing for a certain class of welfare recipient, in what is termed "policy housing". The city's budget does not extend to building homes for low-income earners.
 
Ha Noi is forecast to need about seven million square meters of new housing, equivalent to 120,000 apartments, in the next five years.