Although Vietnam has not officially joined any free trade agreements for farm produce to import and export to common markets at low tariffs, poultry meat from Europe and America has been flooding domestic market at a price much lower than it costs in countries where it came from.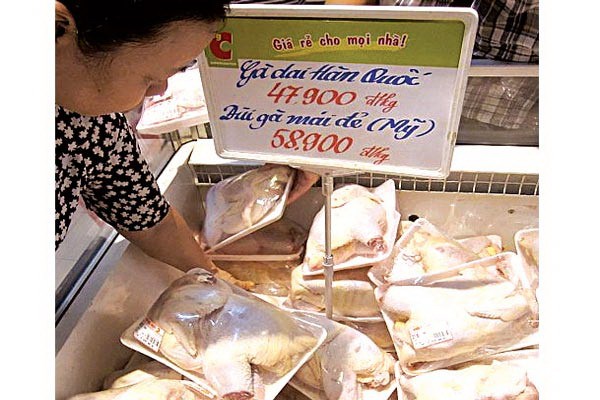 Imported frozen chicken meat sold at a supermarket in Ha Noi City. (Photo: SGGP)
Figures by the General Department of Vietnam Customs showed that in the first five months of this year, Vietnam imported nearly US$54 million dollar worth of poultry meat, of which chicken meat from the US accounted for up to 65 percent of total import value and average price of American chicken meat was much cheaper than same kind of product from other countries.
For instance, frozen American chicken wings were sold at $1 per kilogram (more than VND21,000 per kilogram) and American chicken thighs at $0.9 per kilogram. In southern provinces, the price of imported American chicken thighs and wings was from VND19,000-20,000 per kilogram. The price of frozen chicken meat imported from South Korea was also pretty cheap with chicken thighs at VND40,000-42,000 per kilogram, chicken wings at VND70,000 per kilogram, and chicken feet at VND50,000 per kilogram.
It raised a question that whether imported chicken meat pins domestic poultry meat at low price. According to Mr. Nguyen Xuan Duong, deputy head of the Department of Animal Husbandry under the Ministry of Agriculture and Rural Development, the current poultry price is balanced and gives benefits to both raisers and consumers. He explained that the price of frozen chicken meat imported from the US, Holland, and Brazil was cheap because in those countries people only eat chicken breast and rarely eat other parts, including neck, wing, thigh and internal organs. Because of being considered as by-product, those parts were sold at low prices. He said that Vietnamese businesses import an average of about 80,000 tons of poultry meat every year and have imported around 40,000 tons of poultry meat in the first half of this year. Chicken meat imported into Vietnam is mainly from the US, Spain, Holland, and Brazil.
Agriculture minister Cao Duc Phat also said that imported chicken meat could not be blamed for the drop in price of domestic poultry meat as its annual import volume was not high. However, he also mentioned that free trade agreements would be a threat to domestic animal husbandry industry.
Currently, imported chicken meat and beef can be bought from any supermarket in Ha Noi and Ho Chi Minh City. On online shopping websites, American chicken and South Korean chicken are on sale.
Mr. Le Ba Lich, chairman of the Vietnam Animal Feed Association, said that the price of imported chicken meat from the US was cheaper than it was in the US because the cost for animal husbandry dropped as the prices of the main feed for raising, comprising of corn and soy bean, strongly fell. However, the fact that imported chicken meat merely costs $1 per kilogram is unacceptable and will crush domestic animal husbandry industry. Although American raisers have advantage of cheap feed, their raising costs must be higher than that of Vietnamese ones, not included transport cost and import tariffs. Therefore, the act of trade fraud possibly occurred which means that importers buy near expiry products at low prices then change label before selling them to consumers.
In addition, several countries have canceled import of chicken meat from the US since late 2014 as bird flu happened seriously here. Because of that, American companies would find a way to clear their inventory by offering extremely cheap prices and Vietnam is one of final destinations. Vietnam has canceled import of chicken meat from the US since the beginning of May, however, batches of chicken meat signed before that point of time will be continued to transport to the country.
However, according to Mr. Duong, authorities are still able to control near expiry frozen meat. Imported frozen meat is always checked by veterinarians and customs officers, especially with near expiry batches of frozen meat, tight control will be applied.
Although authorities affirmed that import of frozen meat was closely controlled, with surprisingly cheap price along with poor technical barrier, many people have taken advantage of these gaps to slip unsafe food into the country. Earlier, authorities had uncovered many batches of frozen chicken feet imported from China with unclear origin in domestic market though according to authorities Vietnam did not import chicken feet from China via official trade.