Minister of Transport Dinh La Thang has terminated the services of Dang Hong Cuong, head of the construction project of the new terminal at Da Nang International Airport, citing sluggish progress of the project.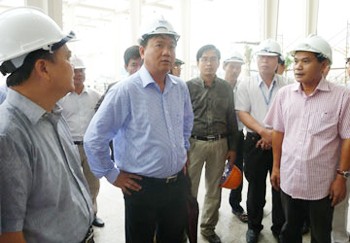 Minister of Transport Dinh La Thang (C) inspects the construction progress of the new terminal at Da Nang Int'l Airport on October 4 (Photo: Phap Luat newspaper)
The minister replaced the chief of the construction project with Do Tat Binh, deputy director of the Southern Airport Corporation, who took charge from October 5.
In addition, the transport minister has specifically asked two contractors Contrexim and ICIC to speed up work on the construction project.
The terminal construction project began in December 2007 with a total capital of VND1,345 billion (US$64 million) from the State budget and loans from the main investor, the Central Airport Corporation.
The terminal will serve four million passengers a year and was earlier planned to be operational by the first quarter of 2010. However, so far only about 50 per cent of the terminal work has been completed.
The Minister of Transport had asked for the construction to be complete before 12 December 2010.
The supervisory committee at the construction site said the construction progress was far too slow and did not meet the required quality standards. Even the fire fighting and fire prevention equipment was not in place, even though this was mandatory safety procedure.
Besides, the upgrading and lengthening of the airport runway was also not complete.