Rural Mekong Delta residents say child marriage is a normal practice that is in fact growing in popularity.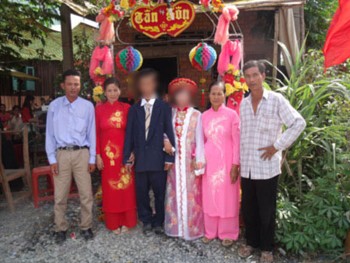 The wedding of a 14 year old groom and a 17 year old bride in Long An Province in March this year (Photo: Giadinh.net.vn)
An official from the Long An province Women Union, who did not want to publicize her name, said that child marriage had occurred in all of the province's districts. However, local authorities have not fully reported the number of cases because they are afraid of tarnishing their locale's image, the official said.
Thanh An Commune in Thanh Hoa District might be the leader in child marriage, accounting for14 out of the district's 20 cases of child marriage last year.
Hamlet 4 was home to ten of the 14 cases and even the hamlet deputy head had given away his two daughters, who were just 14 and 16 at the time, for marriage.
Nguyen Van Duc, chairman of Thanh An Commune People's Committee said that most of the early marriages were prompted by the daughters' fathers, who often pledge their children for marriage while on all-night drinking benders with their friends.
While drinking, they often promised to marry their children of without consulting their wives or children. They don't seem to care if their children are legally too young to marry. In Vietnam, the legal marrying age is 18 for women and 20 for men.
In a typical case, a man known only as Mr. S was drinking with Mr. X when in a fit of elation he said he would marry his 15 year old girl to Mr. X's son.
A few days later, he organized the largest wedding the poor hamlet had ever seen.
In another case, Mr. L found that N., a 23 year old man from An Giang Province who came to Thanh An to do business, was a diligent youth. While drunk, L.  promised to marry his 16 daughter to N and few weeks later, he organized a weeding for them.
Meanwhile local officials in Duc Hue District said the district had about 60 cases of teenage marriages, several of which had produced babies.
They said one girl in Binh Hoa Bac Commune had gotten marriage when she was just 13 year old.
Ms.V.T.K in Dong Thanh town got married when she was just 15. Fifteen years later, she gave her first daughter's hand in marriage and one year later she organized a weeding for her second daughter.
In Tan Hung District, a local man is also said to have forced his 14-year-old son to marry a 17 year old girl in Hung Dien B Commune.
Another local named Nguyen Van B allegedly told his 15 year old girl to marry a boy in the same hamlet.
Knowing the marriage was illegal, Mr. B. advised his daughter and son-in-law to go to Dong Thap Province to avoid suspicion.
According to a district population official who did not want to reveal his name, all 13 communes and towns in the district are home to child marriages, with dozens cases of girls becoming mothers when they were just 15-17 years old.
He said the most worrying thing was that most parents considered this "normal."
But local law enforcement agencies don't consider it normal.
Nguyen Van Trang was recently sentenced 12 years in prison for statutory rape after marrying and having sex with a teenager.
In Ben Luc District, police officers have investigated some other child marriages and have prosecuted people over 18 or 20 years old for having sex with minors.