Some events have been held around the country on Children's Day June 1 this year in an attempt to call on the community to better protect and care for children health.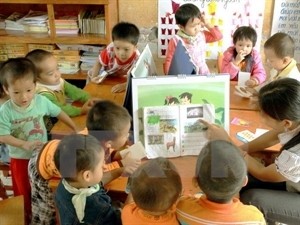 Children learn at a kindergarten (Photo: VNA)
The Ministry of Labour, Veterans and Social Affairs held an event on May 30 in northern Hai Duong province's Hai Duong city as a kick-off to the Month of Action for Children with the motto 'Let's Hear Children.'
Attending the event, Deputy Prime Minister Vu Duc Dam called on people to listen to children to understand and have proper advice or timely actions, helping children to grow better.
Worrying about the number of 1.5 million disadvantaged children and around 2.5 million children at risk of becoming disadvantaged ones, the Deputy PM urged adults to translate mottos into actions to better care for children.
According to Minister of Labour, Invalids and Social Affairs Pham Thi Hai Chuyen, over the past years, many measures has been implemented at all levels to protect, care for and educate children, partly limiting negative impacts and risks caused by economic recession, climate change and environmental pollution on children.
Many policies and programmes for children continue being maintained such as the National Action Programme for Children, the National Programme for Protecting Children and Free Medical Examinations for Children aged under six and many others.
Vietnam approved the United Nations' Convention on the Rights of the Child 25 years ago to ensure children to be under the protection of four groups of basic rights – the right of survival, the right of development, the right of being protected and the right of children's participation, Chuyen said.
But she said more efforts needed to be done.
At the event, the Vietnam Children Sponsor Fund received 20 billion VND (920,000 USD) in donation from organisations, individuals to implement programmes and projects for impoverished and disabled children.
The Fund also sponsored 30 impoverished students who have good performance in study, each 2 million VND, and presented 700 gift packages, worth 200,000 each, to impoverished children.
The same day in HCM City at September 23 Park, the HCM City's Health Department in collaboration with the city's Community Health Association organised the third Care for Children Health Festival, which is expected to draw 10,000 children during May 30-31.
During festive days, children are offered free medical examinations and advice by specialised doctors on backbone, eye and teeth. They are supplied Vitamin A for free as well.
In addition, parents are equipped with basic and practical knowledge of caring for children health like how to prevent dangerous disease or how to handle accidents and injuries in summer days.
The event is expected to raise awareness of the importance of caring for children health and call on organistions and individuals to contribute to the cause.-VNA