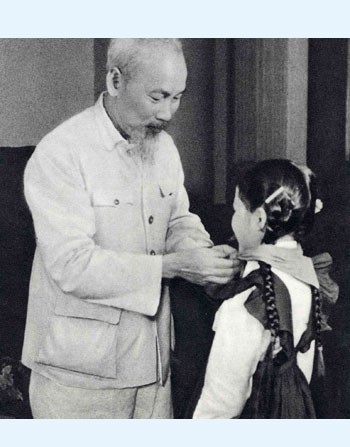 The filed photo shows President Ho Chi Minh ties a pioneer scarf for a child.
14 moving stories about President Ho Chi Minh were told by 14 primary school teams in the final contest of stories about Uncle Ho held in Ha Noi on Sunday to celebrate the anniversary of President Ho Chi Minh's birthday.

The most interesting performance at the contest was presented by three foreign students who told story about "an Apple of Uncle Ho".
The three students Arthur Viet Anh Moraux of Belgium, Cho Ye Chi of Republic of Korea and La Tuan Duy of China who attend Doan Thi Diem Primary School were born in Viet Nam and can speak Vietnamese fluently.
The stories about Uncle Ho were told with children's boundless love for Uncle Ho.

The first rounds of the contest have been held since last September and the final contest took place just one week before the 118 th anniversary of President Ho Chi Minh's birthday on May 19.