Long-lasting chilly weather since December 30 has caused tens of livestock to die and vegetable prices to surge in the northern region.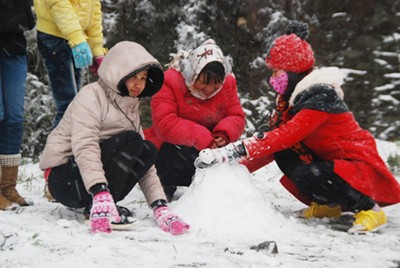 Mau Son Mountain saw more snow and ice on January 6-7, 2013(Photo: SGGP)
Mau Son Mountain Range in Lang Son Province continued to see more snow and ice over the last two days as temperatures plunged to zero degrees celsius. Mercury dropped to 3-4 degrees celsius in Loc Binh and Cao Loc Districts.
Hoang Quang Chinh, Deputy Director of the provincial Department of Agriculture and Rural Development, said that some districts have seen tens of buffalo, calf and old cows die due to the biting cold.
The Department of Livestock under the Ministry of Agriculture and Rural Development is concerned that the number of buffalos and cows dying due to the cold weather will increase.
The department has advised residents not to let their livestocks graze in the open but keep them in sheltered areas and carefully cover them from the bitter cold.
The northern region has 1.46 million buffalos and 907,000 cows. In the earlier cold waves in 2008, 2010 and 2011, thousands of livestock had died causing a loss of VND300 billion (US$14.4 million).
At a meeting on January 7, Cao Duc Phat, Minister of Agriculture and Rural Development, instructed the Department of Livestock to report what the provinces in the northern, central and central highland regions are doing to save their livestock.
He asked the department to help residents minimize their livestock losses.
The prolonged cold has caused a scarcity of vegetables, resulting in prices skyrocketing.
Nguyen Van Minh, deputy chairman of Van Duc Vegetable Cooperative in Gia Lam District in Hanoi, said that the cold weather affected vegetable growth, leading to a 50-60 percent drop in output.
Bui Quoc Hoi, deputy head of the economic department in Me Linh District, said that local farmers are cultivating 1,500 hectares of vegetables, but scarcity caused by cold conditions have hiked prices by 7-10 percent.