Vietnam demands China not take its oil rig Haiyang Shiyou-981 back or dispatch any other rigs to Vietnam's oil and gas Block 143 or any other areas belonging to Vietnam's waters as prescribed by the 1982 United Nations Convention on the Law of the Sea (UNCLOS) in order to create a peaceful and stable environment in the East Sea, Foreign Ministry Spokesperson Le Hai Binh has said.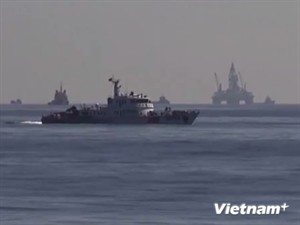 China's drilling rigs Haiyang Shiyou-981 and ships violate Vietnam's exclusive economic zone (Photo: Vietnam+)
The spokesman made the statement on July 16 in reply to the news that China moved the rig that it has illegally placed in Vietnam's continental shelf and exclusive economic zone since early May.
Binh recalled that that since May 2, 2014, China's rig Haiyang Shiyou-981 and a large number of escort ships, including military ships, have violated the exclusive economic zone and continental shelf of Vietnam. The rig's location was about 130 nautical miles from the coast of Vietnam.
Chinese ships encircled and intentionally rammed at, fired high-pressure water canon on Vietnamese coast guard and fisheries surveillance vessels undertaking their maritime management missions in Vietnam's exclusive economic zone and continental shelf. The actions by the Chinese side injured many of the fisheries administration officers, caused losses for Vietnamese law enforcement authorities at sea, and even sank a Vietnamese fishing boat.
"Vietnam has struggled to safeguard her sovereignty and jurisdiction by peaceful measures," Binh affirmed.
"Vietnam has again affirmed that the area where Haiyang Shiyou-981 has operated since early May belongs to Vietnam's exclusive economic zone and continental shelf. Operations of the rig and escort ships of China over the past two months in the area are totally illegal, infringing regulations of international law, including the 1982 UNCLOS," the spokesman said.
"Vietnam wishes to reach an amicable settlement of disputes and disagreements in the East Sea on the basis of international law, including the 1982 UNCLOS," Binh noted, demanding China respect Vietnam's sovereign right and jurisdiction to her exclusive economic zone and continental shelf.
The spokesman confirmed that Vietnam resolutely defends her sovereignty and sovereign right in conformity with international law.
According to the High Command of the Vietnam Coast Guard, China's oil rig Haiyang Shiyou – 981 was moving north-northwest toward China's Hainan island at 21:03pm on July 15.
The rig and the fleet of nearly 60 escort ships were moving at a speed of 4-4.2 nautical miles per hour.
At 6:20am on July 16, it was 41 nautical miles from its previous position, about 163 nautical miles southwest of Hainan island.