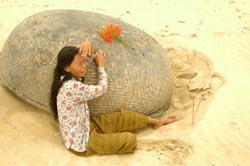 A woman breaks down at the sudden death of her husband
A total of 330 Vietnamese fishermen caught in typhoon Chanchu have been saved by Chinese rescuers, said China Maritime Search and Rescue Center on May 21. 
The center said by Saturday afternoon, they had saved 97 Vietnamese fishermen.
According to the center, by 11:00 a.m. on Sunday, Chinese rescue ship "Nanhaijiu 111" had found 21 Vietnamese fishing boats in seriously rough sea, off the Dongsha Islands, in the South China Sea. "Nanhaijiu 111" provided food, fresh water and fuel to 306 Vietnamese fishermen on 14 fishing vessels, said the center.
On Friday afternoon, another Chinese rescue ship, "Dejin", found and saved another Vietnamese fishing boat in distress with 24 fishermen on board near the Dongsha Islands.
The rescue operation lasted for more than 40 hours, and Chinese rescuers are continuing their efforts to search for other endangered Vietnamese fishermen.
The Chinese Embassy in Vietnam sent a telegraph to the China Maritime Search and Rescue Center Friday afternoon, saying that 22 Vietnamese fishing boats and hundreds of fishermen caught in Typhoon Chanchu were running out of oil and fresh water, and have lost contacts with the Vietnamese side.
The rescue center immediately launched an emergency rescue mission and sent "Nanhaijiu 111" to the site one hour after receiving the information. The rescue ship arrived at Dongsha at 3:33 a.m. on Saturday.
The Chinese Ministry of Communications said during the successful large-scale rescue operation, they contacted the Hong Kong maritime rescue center for assistance.
While giving direction to passing ships for safe voyage, the center also asked them to give a hand in search of the missing Vietnamese fishermen.
According to the center, at 6:40 a.m. Saturday, after three-hour search, upon its arrival, "Nanhaijiu 111" got in touch with one Vietnamese fishing boat, "DNA09189", which carried 32 fishermen and eight bodies.
Rescuers helped the fishing boat regain the capability to sail independently and invited it to join the search for the other Vietnamese fishing boats.
By 11:47, another two Vietnamese fishing boats, "DNA90345" and "DNA90299", were found some 20 nautical miles off the Dongsha Islands. There were 32 fishermen and five bodies on "DNA90345", and 33 fishermen and five bodies on "DNA90299". Rescuers then offered fresh water, food and fuel to the two Vietnamese fishing boats.
By 16:45, Chinese rescuers found nine more Vietnamese fishing boats about eight nautical miles off the Dongsha Islands, said the center.
The center said it kept reporting the progress to the Vietnamese national rescue center.
On Saturday, the Vietnamese Foreign Ministry called the Chinese Embassy in Viet Nam, offering sincere thanks of the Vietnamese government for China's help to the Vietnamese fishermen in danger, and hoping the Chinese side could continue the rescue operation.
Rescuers said the excited Vietnamese fishermen, after being saved, stammered thanks in Cantonese. Some of them raised posters they wrote in both Chinese and English which read, "Thank the Chinese government! Thank Chinese sailors! Thank you!"
Around 10 boats, carrying 229 people, were reported sunken and out of contact on May 21. A total of 18 fishing boats are in search-and-rescue operation, three of which carrying 104 fishermen are on the return with 17 dead and 6 survivors.
Quang Nam Province confirmed additional 117 people remain missing and released no official death tally. As many as 47 boats with 200 fishermen currently get stuck at sea. Another fishing vessel "QNA-1699" carrying 20 people is reported missing.
Related Articles:
Sai Gon Giai Phong Newspaper Raises Funds for Typhoon Chanchu Victims
General Secretary Sends Condolences to Typhoon Victims' Families
Central Viet Nam's Fishermen Affected Most Seriously